High-fives for autonomy on the high seas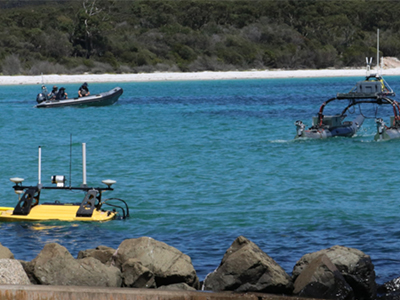 The recent Autonomous Warrior 2018 (AW18) event hosted by the RAN at HMAS Creswell was an exciting chance to demonstrate the power of autonomy and collaboration.
Defence scientist Neil Tavener and colleagues from DST's Uninhabited Systems and Autonomy Group have been working with the RAN and several companies individually for some time, and AW18 was a unique chance to bring all parties together for the first time.
Out on Jervis Bay for several weeks during AW18, the DST scientists worked with RAN counterparts and industry partners including Ocius, Hydroid, BlueZone Group, 2G Robotics and Thales to demonstrate autonomous mine countermeasure and anti-submarine warfare missions. Underwater vehicles used sensors to gather data, and were then able to transmit images and data to nearby surface vessels which then relayed that information to human operators. This operating mode saves a significant amount of time as the underwater vehicle no longer needs to return to the surface for interrogation.
Tavener says the ability to get new systems working together in such a short time was very encouraging. "DST has had a remit in recent times to be the enabler for industry, and I think this is a fine example of how we're doing that now," Tavener said. "We are able to assist industry to get their feet in the door, show what they're capable of, and then work with us as an agnostic system integrator."
Royal Australian Navy LEUT Harry Hubbert was equally enthusiastic about what was achieved at AW18. "If we do put aside our agendas to work together, we can achieve some pretty cool things," said Hubbert, a systems engineering specialist at the helm of the RAN Great Reinvigoration of Innovation in Mine-Warfare (GRIM) program established at HMAS Waterhen, and regular collaborator with DST. LEUT Hubbert was impressed by the quality of the images and data being sent to operators located out of harm's way as the vehicles traversed the AW18 simulated minefields.
The DST team has also worked closely with the RAN Australian Mine Warfare Team 16 for some time, providing scientific advice in support of several RAN mine countermeasure acquisition programs. The RAN is receiving four General Dynamics Bluefin-9s and three larger Bluefin-12s under SEA 1778, and two Hydroid Remus 100s under SEA1770. Less complex projects like these offer a pathway over time for the development and evolution of an off-board robotic technology in support of future mine countermeasures and hydrographic operations.