Composite bonded repair technology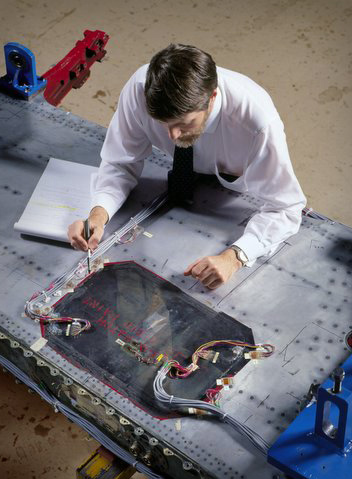 DST Group leads the world in the use of adhesively bonded fibre composites to repair aircraft structures and arrest stress corrosion cracking.
Developed by Dr Alan Baker and his Materials Composites team in 1972, the technology involves adhesively bonding patches of advanced fibre composite materials to repair damaged aircraft structures and to stop stress corrosion cracking. The repairs are structurally very efficient, can be applied rapidly ;and are cost effective.

The technology has many advantages over traditional mechanical repair methods, such as bolting or riveting. Composites are lighter in weight, offer more uniform load transfer, seal interfaces to reduce corrosion and leakage, create minimal damage to the parent structure and facilitate non-destructive inspection. Ongoing evolution of this technology has seen increasingly sophisticated and specialised repairs applied across the Australian Defence Force (ADF) fleet. It is a technology that can also be applied to civilian aircraft.
Commercialisation
The technology was licensed to Australian-owned private company, Helitech Industries Pty Ltd in 1990. Helitech has been highly successful in marketing the technology internationally, and the Minister of Defence received the first royalty payment of $250,000 from Helitech in 1994.

In 1995, Helitech, in collaboration with DST, developed a composite bonded repair for the US Air Force C-141 Starlifter heavy transport aircraft. Helitech's wholly owned American subsidiary, Composite Technologies Inc, was awarded a contract for the repair of the US Air Force Starlifter fleet wings. The contract was valued at more than US$10 million.

The composite bonded repair technology has also been adapted to repair gun carriages using an electroformed nickel material, which is strong, rigid and highly wear resistant. The electroforming process also allowed very accurate reproduction of the surface to be repaired.

The technology is now used in commercial airliners as well as other military aircraft belonging to the Royal Australian Air Force (RAAF), US and the Belgian Air Forces to maintain and extend the life of their aircraft fleets.

Both DST and Helitech have benefitted through this transfer of technology. Helitech has gained substantial export opportunities and experience in supporting ADF aircraft. At the same time, DST has enhanced its technology base through the evaluation of the technology on a wide range of aircraft and in externally funded trials, mainly in the US.