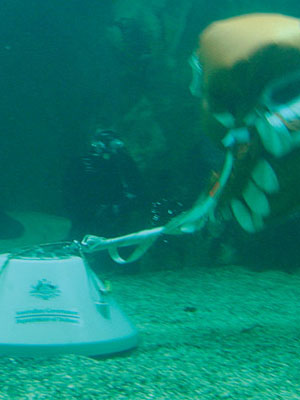 Named after the wading bird, the Cormorant Lift Bag was designed to recover explosive mines remotely and safely from the sea.
The innovation was developed by DST Group (then known as DSTO) in collaboration with the Royal Australian Navy (RAN) and two small Tasmanian companies, Liferaft Systems Australia and Fiomarine Industries.
Liferaft Systems designed and manufactured the prototype of the lift bag while Fiomarine developed the acoustic communication system for its remote operation and float management. DST facilitated the transfer of the intellectual property (IP).
The Cormorant Lift Bag is activated from a remote control unit that can be located up to a kilometre away, ensuring safety for the RAN clearance divers. The lift bag fills with air from cylinders contained within its assembly unit, bringing the mine to the surface. On recovery, the mine can be towed to a safe place for defusing or detonation.
Capable of lifting underwater objects weighing up to 1000kg from greater depths than conventional recovery systems without the use of an explosive charge, the Cormorant Lift Bag is also able to be used for civilian applications such as search and rescue and salvage operations.
In 2004, the Cormorant Lift Bag was formally accepted into naval service after extensive safety and operational testing and was deployed on Australia's six Huon class Coastal Minehunter ships. Following the launch, the Cormorant Lift Bag was deployed overseas for exercises off the coast of Malaysia.
The lift bag represented a low-cost, but superior Australian solution, when no commercial product was available to meet the Navy's needs.