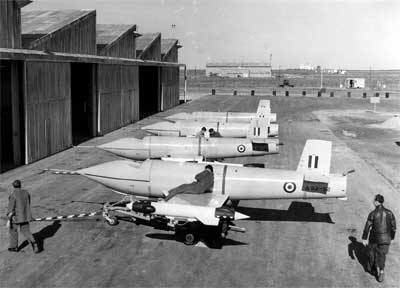 From 1948 to 1977, the development of Jindivik, a sub-sonic unmanned jet-propelled target plane designed to measure missile performance, enhanced Australia's international reputation for innovation in defence science.
Jindivik (thought to be an Aboriginal word for 'Hunted One' but may also mean 'to consume' or 'destroy') was a metal low-wing cantilever monoplane, 7 metres long, with a 5.8 metre wingspan, a maximum speed of Mach 0.85 and a ceiling of 40,000 feet.
The design and development of Jindivik prototypes commenced in 1948. Ian Fleming, chief designer at the Government Aircraft Factories, Fisherman's Bend, supported by the Aeronautical Research Laboratory (ARL), headed the team that undertook the design work and initial development of Jindivik.
The laboratory's pioneering expertise in flutter and vibration analysis was successfully applied to the project. Almost all the wind tunnel testing was carried out at ARL and the Royal Aircraft Establishment (RAE) in Great Britain and the Long Range Weapons Establishment (LRWE) also played crucial roles in the project.
The first successful Jindivik test occurred in 1952 at Evetts Field near Woomera. It was used to tow small targets for guided missile tests. By towing targets rather than being a target, the Jindivik could be re-used for further target trials. The first trial using the Jindivik Mk1 as a target took place at Woomera in 1954. Subsequently, Mk2, Mk3A and Mk3B Jindiviks were designed and developed,and continued in service until 1975.
Other pioneering work was associated with the Jindivik development, including the Weapons Research Establishment Target Recorder WRETAR) cameras with fish-eye lenses to gather information about missile behaviour. The camera was designed by Bob Bonnell and contained a lens designed by Frank Dixon. It became the standard miss-distance measuring system for Jindivik and other target aircraft.
Jindivik technology was sold overseas helping to raise Australia's profile in the international defence markets, making $34 million in sales to Britain, Sweden and the US Navy between 1952 and 1977.
From the archive: Target Jindivik