Mulloka Sonar Technologies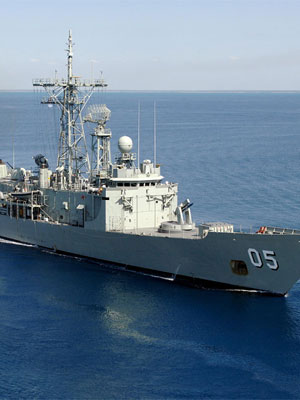 Developed in the early 1970s, Mulloka was an advanced medium-range active sonar technologies system designed to provide information on submarine targets.
It transmitted periodic short bursts of high energy sound into the water. The faint return echoes resulting from the transmitted signals reflecting from underwater objects were detected by the sonar and electronically processed to provide target range, bearing and radial speed relative to the ship in the form of video readouts to the sonar operators and the ship's fire control system.
Influenced by a 1971 study undertaken by the Weapons Research Establishment's Advanced Engineering Laboratory and the Royal Australian Navy Research Laboratory in Sydney, the basic philosophy behind the design of Mulloka was that it would be suitable for Australian waters. It also involved a significant increase in operating frequency and transmitting power, beamed in such a way as to exploit duct leakage effects in the ocean. This was a radical departure from sonar technologies previously used.
In 1972, work began on constructing a prototype for one of the Royal Australian Navy (RAN) 'River' class destroyers. This was completed near the end of 1974 and fitted to the HMAS Yarra for sea trials throughout 1975 and 1976. The trials were only partially successful. While the Mulloka system demonstrated superior detection capabilities over existing medium-range sonars, probems arose with water ingress and corrosion, resulting in the re-design of some sub-systems by Defence scientists.
In 1978, the prototype was refurbished and sea trials re-commenced. Results indicated that the major design aims had been met. Final tests were concluded in 1979, and the RAN accepted the Mulloka prototype system as an operational unit, when it was fitted to HMAS Yarra. In 1980, at Long Beach in California, Mulloka also underwent a series of trials using US test equipment.
In 1979 and 1980, contracts for the design and manufacture of the first production model were let to EMI Electronics (Aust) and to Honeywell Marine Systems Division of Seattle, US, for the design and development of the transducer array.
In time, all of the 'River' class destroyers and the two Australian-built guided missile frigates, HMA ships Melbourne and Newcastle, were fitted with Mulloka. Two units were also installed at HMAS Watson, the RAN's shore establishment.