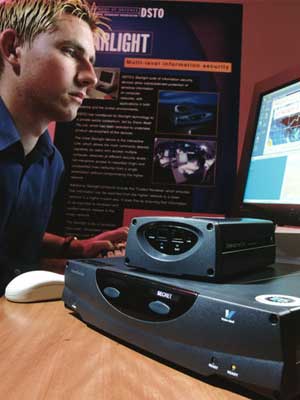 Starlight is a unique, world-first system that allows users of secure computers to access insecure networks, such as the Internet, without compromising their own security.
This technology has applications in both government and commercial environments. It is licensed to BAE Systems Australia Datagate and is marketed under the brands Interactive Link and Data Diode.
It is in use in the Departments of Defence and Foreign Affairs and Trade and is also in operation in the USA, UK, Canada , Singapore and New Zealand. Starlight won a prestigious information technology (IT) security competition as part of the combined World Congress on IT in 2002.
"The Interactive Link and Data Diode product ranges are an excellent example of how innovative research and development in Australia can be successfully transitioned into products and services that remain global leaders in the growing market of Information Assurance." Mr Kim Scott, Director Joint Business Unit, BAE Systems Australia
Background
The precursor to the Starlight program was STUBS, a computer security program invented by Dr Mark Anderson in 1991. Dr Anderson was the principal inventor of Starlight in 1992, and the system was then developed by DST Group, (formerly DSTO). In 1996, the technology was licenced to the Tenix Group which later formed the company Tenix Datagate to commercialise the products.

In 2002, DSTO and Tenix signed a Technology and Product Licence, ensuring Tenix Industries access to Starlight technology up to at least 2012. By October 2002, over 4,500 such devices were in daily use around the world.

All three Starlight Interactive Link products were the first in Australia to obtain formal certification to the highest security standards possible under the Department's Australasian Information Security Evaluation Program and, in 2000, were one of only a handful of products in the world to have achieved this standard.

In early 2002, Starlight Interactive Link won a highly sought after IT innovations competition. Starlight gained one of only four places in the Security Section of the 'Secrets of Australian IT Innovation' competition. As a result, Starlight was showcased in the IT Business Forum as part of the combined World Congress on IT in 2002. Around 217 organisations competed (within eight industry categories) as part of a national campaign designed to identify Australia's most innovative IT technologies with global potential.

In 2005, the Starlight Interactive Link was granted the highest possible level of security certification by the National Information Assurance Partnership in the United States. It was the first time that any security device had received Evaluation Assurance Level 7 certification. A key requirement in achieving this certification was to provide mathematical proofs that the design met security objectives. These proofs were generated by DSTO. In Australia, the Interactive Link is used widely by a number of government departments. The technology is now marketed worldwide as Veto.