Tee Visual Approach Slope Indicator System (T-VASIS)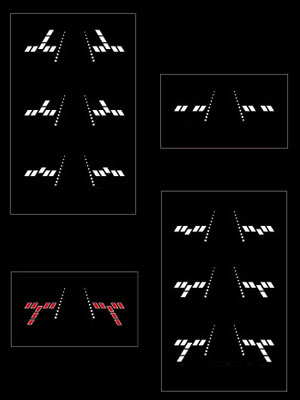 Developed in the mid-1950s, the T-VASIS system became the international standard to assist aircraft pilots in the final stages of landing.
The system was developed by Ron Cumming and Russ Baxter of the Aeronautical Research Laboratory (ARL) in Fisherman's Bend, in conjunction with Bruce Fraser, Dr John Lane and Jack Leevers of the then Department of Civil Aviation (DCA).
T-VASIS was based on a series of light boxes on either side of the runway with various apertures that, taken together, showed a white line if the aircraft approach was correct. Too high and the system showed an inverted 'T', too low and the pilot saw an upright 'T' coloured red. At this time, only large aircraft had instrument landing system equipment, which meant small aircraft relied wholly on the visual system to find the correct approach angle.
DCA adopted the system in Australia after extensive evaluations here and overseas. It let the contract to Reinforced Plastics Pty Ltd to manufacture six production units in 1963, the first of which was commissioned in Hobart in 1964. Further units were installed at major airports in Australia during 1966 and 1967. The system was adopted as the international standard in 1971.
In September 1973, the Federation Aeronautique Internationale awarded the Diplome d'Honneur to ARL and DCA for the invention and development of T-VASIS.