2012 Secretary of Defence Fellowship winner announced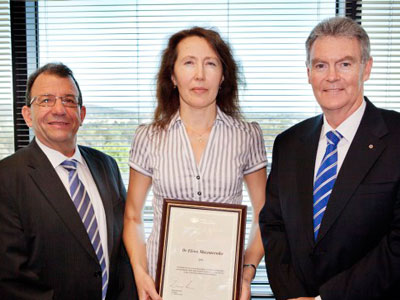 The Secretary of Defence Mr Duncan Lewis has presented the 2012 Secretary of Defence Fellowship to Defence Science and Technology Organisation (DSTO) scientist, Dr Elena Mazourenko.
The Secretary of Defence Fellowship is awarded annually to enable a Defence Australian Public Service employee to undertake one year of full-time postgraduate research at the University of New South Wales at the Australian Defence Force Academy. (ADFA).
The fellowship comprises salary and up to $15,000 for field research expenses, including travel.
Dr Mazourenko's research topic is "Supporting operational planning and evaluation in the Australian Defence Force (ADF): investigation into the integration of theories of change and assumptions monitoring into campaign planning and campaign assessment".
In presenting the award, Mr Lewis said Dr Mazourenko's research would be of great and direct benefit to Defence.
"Dr Mazourenko's research will deliver a campaign planning and assessment framework intended to improve planning and inform decision making for ADF operations," Mr Lewis said.
"I've made it very clear since beginning as Secretary that my key priority is supporting ADF personnel deployed on operations, and Dr Mazourenko's work relates directly to this. I congratulate her on her hard work and dedication and very much look forward to seeing the results of her research project."
Dr Mazourenko's work for the DSTO includes the development of a proposal for scenario-based training to enable new Headquarters Joint Operations Command staff to assimilate quickly into an interoperatibility-dependent environment, and operational data processing and analysis for Operation Slipper campaign assessments. She has also previously conducted environmental research for the Department of Transport and Urban Planning in South Australia.
Dr Mazourenko has three adult children in the ADF, including two sons in the Australian Army and a daughter in the Royal Australian Air Force (RAAF).