DSTO demonstrates vision technology for defence vehicles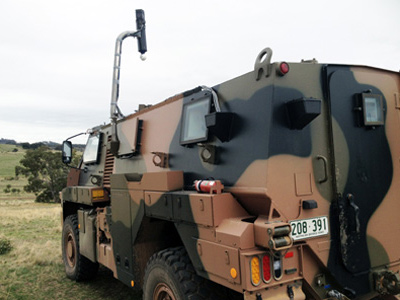 Computerised vision technology, designed to enhance Australian Defence Force (ADF) vehicle situation awareness, has been demonstrated at the Puckapunyal Army training facility in Victoria.
Desert Owl is being developed by computer vision and software firm Sentient as part of the Defence Capability and Technology Demonstrator (CTD) program which is managed by the Defence Science and Technology Organisation (DSTO).
The system analyses full motion video imagery from various sensors to perform mobile target indication from mobile ground vehicles to identify potential targets and threats.
CTD program director Alan Hinge says that Desert Owl is designed with two distinct technology components to provide advanced vehicle awareness.
"A component known as Panoptes provides automated target detection from a stationary, sweeping camera," he said. "In Greek mythology, Panoptes was a giant with 100 eyes."
Land Operations Division Chief Technology Officer Vinod Puri said: "This technology can detect and track moving targets down to a few pixels in size – cueing operators too small or slow-moving, and hard to see targets, in difficult terrain".
"It can also detect stationary objects that may have moved since the camera was first directed at that location."
A separate ground change detection component can identify variations in a landscape between successive camera transits through an area.
"With this component, Desert Owl records imagery of the environment," Dr Hinge said. "On subsequent transits, the system compares live imagery of the road ahead with this recorded imagery and identifies visual changes including disturbances to the ground surface, additional, moved or removed objects."
Desert Owl, in the sixth of nine technology readiness levels, could be applied to any ADF land vehicle.
The CTD program was established to improve priority Defence capabilities. It provides Australian and New Zealand industry and research organisations with an opportunity to demonstrate technology and allows Defence to assess its potential and any associated risks.