New Radar Absorbing Material Manufactured Locally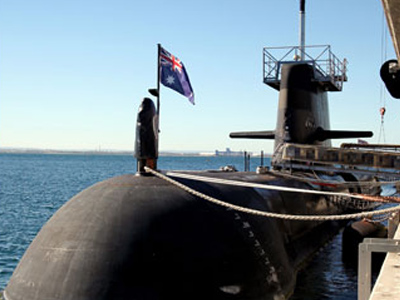 Defence Science and Technology Organisation (DSTO) staff are advancing the progressive application of new radar absorbing material to Australia's Collins class submarine fleet.
The fitment program commenced in 2008, in collaboration with Mackay Consolidated Industries, a Melbourne-based rubber manufacturer.
DSTO maritime platforms researcher Dr Andrew Amiet explains that the new radar absorbing material was designed, formulated and tested by electromagnetic signature management specialists.
He says that DSTO is replacing internationally sourced absorbers 'that proved to be less optimal.'
"The old material showed evidence of deterioration and rust, where it affixed to the Collins. The underlying metal also needed to be treated with hydrofluoric acid, to help affix the absorber," Dr Amiet says.
In applying the newly developed rubber, DSTO and Mackay Consolidated Industries do not need to rely on hydrofluoric acid treatment – an extremely hazardous substance which requires great care when using.
Stealth Aircraft
DSTO has previously worked with Mackay Consolidated Industries on other projects and consulted them again to develop a durable material that meets the Royal Australian Navy's unique signature management requirements.
"The new material is tested for peel and tear, to help ensure it adheres effectively to the masts."
"It is designed to reduce the range at which other sea or airborne platforms could detect a Collins class submarine. The effectiveness of the absorber has been validated through measurements performed by electronic warfare and radar experts at DSTO."
Dr Amiet says that Mackay uses the best, locally derived materials to develop the new radar absorbing material.
"Working with local manufacturers means that the Australian Defence Force and DSTO have the sovereign ability to modify the material, as required, if circumstances or demand change."