Scientists experience Parliament's inner workings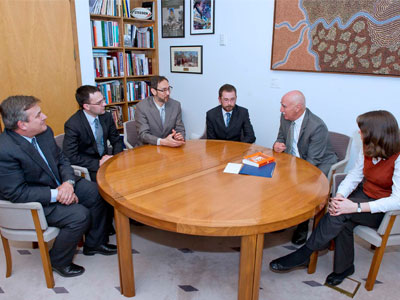 Four scientists from the Defence Science and Technology Organisation have met with Minister for Defence Science and Personnel, Warren Snowdon, as part of the 2012 Science Meets Parliament program.
Minister Snowdon received a briefing on developments in science and technology that will ensure Australia maintains its leading edge in defence and national security.
"I am very pleased to hear of these excellent examples of how the continuing effort in defence science and technology is paying off," Mr Snowdon said.
"The work of the DSTO is crucial for our defence and national security, although not as widely recognised as it deserves to be. Much of its success is in preventing loss, or lengthening service life, or in merging world-leading technologies with Australian Defence Force equipment. This is crucial work which enables us to get more than full value for our defence dollars."
Aeronautical Engineer Carl Mouser works in aircraft vibration and structural dynamics. He helps keep the Royal Australian Air Force in the air longer and flying safer through his work on how loads impact on operational performance, with much of his effort focussed on the F/A-18s.
Biological Scientist Michael Beer has worked extensively in identifying microbial populations in wastewater treatment and is now contributing to the development of medical countermeasures to biological agents.
Systems researcher Lydia Byrne studied mathematics and English literature and now works in information visualisation, situational awareness in teams and mathematical modelling. This work helps ensure Army, Navy and Air Force can conduct joint operations seamlessly.
Electro-optic Threat Warning Scientist Sebastian Wong came to DSTO from industry and now leads Australia's research effort into algorithms and architectures for electro-optic threat warning systems which are key to providing early warning to Defence personnel.
"The range of expertise which DSTO can harness to deliver solutions for defence and national security is truly noteworthy. All Australians should be proud of our Defence Scientists working tirelessly behind the scenes to continually improve the Australian Defence Force," Mr Snowdon said.
Organised annually by Science and Technology Australia for the past 13 years, Science Meets Parliament brings together about 200 of Australia's top scientists to hear from the nation's political and policy leaders.
Media note
Imagery is available from the following link: http://images.defence.gov.au/12131054