Frontline soldiers benefit from Diggerworks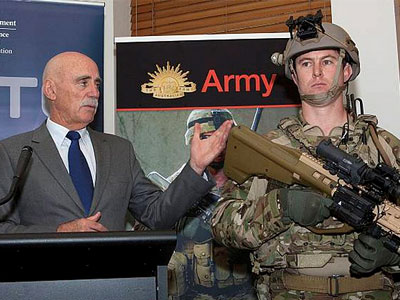 Minister for Defence Science and Personnel Warren Snowdon and the Minister for Defence Materiel Mike Kelly today released a study reinforcing how the Department of Defence Diggerworks initiative has vastly improved the way Australian soldiers are equipped for combat.
Diggerworks is a joint initiative between Army, the Defence Materiel Organisation, the Capability Development Group and the Defence Science and Technology Organisation (DSTO) to identify and deliver technology to enhance the fighting capability of our frontline soldiers and tactical unit.
The study undertaken by Danny Samson, Professor of Management at the University of Melbourne and Dr Peter Cebon, former Senior Research Fellow at the University of Melbourne, analysed the success of the Diggerworks initiative.
Mr Snowdon said the report demonstrated the importance of collaboration, with our combat troops now amongst the best equipped troops in the world.
"The Diggerworks approach has made it possible to field combat system enhancements in a more rapid and responsive manner and is a solid example of the contribution science can make to Defence, " said Mr Snowdon.
Dr Kelly said the report highlighted the valuable work undertaken by Diggerworks.
"Diggerworks has enabled Defence to better meet the evolving needs of our frontline soldiers."
"By clearly identifying the factors that contributed to Diggerworks' success, Defence is well positioned to apply those lessons elsewhere and achieve the same kind of outstanding results," said Dr Kelly.
Diggerworks was established in 2011 to rationalise procurement practices for combat ensembles and improve the suitability of equipment based on feedback from soldiers in the field.
The report can be downloaded from the Defence website.
Additional images are available at the Australian Defence Image Gallery.