Water filtration analysis to help ease ADF resupply challenges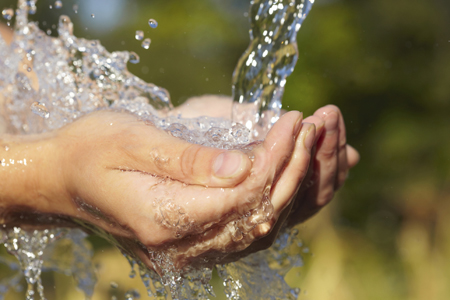 A scientific analysis of commercial water filters could help reduce the amount of water Australian Defence Force (ADF) soldiers carry and ease logistical burdens associated with resupply.
Defence Science and Technology Organisation (DSTO) researchers have evaluated an off-the-shelf pump filter for consideration as a possible ADF capability, to be used by Australian Army small tactical units.
The advice stems from a 'Diggerworks' program focused on assisting the ADF develop an informed position about a suitable means of filtration for safe drinking, cooking and washing.
Diggerworks – a collaboration between DSTO, Army, the Capability Development Group and Defence Materiel Organisation, seeks to aid the performance of dismounted soldiers.
DSTO researcher Larissa Cahill says that Australian soldiers deserve the very best form of hydration and water filtration to sustain their important work in the field.
"Individual water purifiers (IWP) can potentially help reduce the amount of water a soldier carries when they operate in environments with accessible water sources," Ms Cahill says.
"In hot, humid landscapes, soldiers anecdotally each carry up to eight litres of water per three days' deployment. To survive they must carry water, access a supply of safe water, or rely on resupply."
"In these environments, where safe water supply can't be guaranteed, IWP can also ease logistical burdens associated with water resupply," Ms Cahill says.
Ms Cahill says researchers compared commercial IWP product specifications to ADF user requirements to select filters for DSTO lab and field trials.
"We specifically targeted filters that achieved an acceptable level of microbiological purification – excluding chemical, salt or other types of water purifiers."
"Water contaminated by raw sewage and other seed materials was analysed before and after filtration through straw products, container filters, pump and in-line systems," Ms Cahill says.
Purifiers that met stringent filtration levels consistent with appropriate international standards for protozoa, viruses and bacteria were deemed suitable for user testing. Researchers also collected data to inform development of an Australian Army IWP specification for industry.
Of the systems trialled, a pump filter was the preferred option which connects directly to a soldiers' canteen. It comprises of a flexible plastic tube with a pre-filter to guard against debris, and a simple hand pump mechanism that extracts water through a carbon matrix filtration cartridge, producing purified water.