Strategic alliance to boost defence science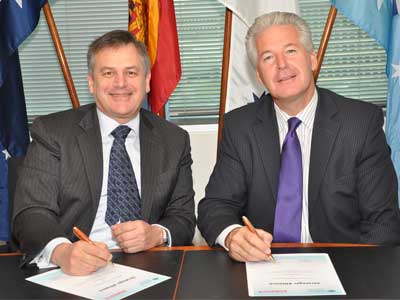 The Defence Science and Technology Organisation (DSTO) and BAE Systems Australia have entered into a new strategic alliance to enhance collaboration on defence technologies.
The alliance will see the two organisations potentially work together on strategically significant areas such as submarines, cyber security, land vehicles, space, electronic warfare and passive radar, hypersonics and autonomous systems.
"We are very pleased to be entering into this new agreement with BAE Systems Australia," Chief Defence Scientist Alex Zelinsky said.
"It is clear that these sorts of arrangements help cement the close, long-term relationships that benefit both partners."
"No single scientific organisation can produce the advances in science and technology that are required in the rapidly evolving defence environment."
"We are looking forward to the collaboration and commercialisation opportunities we expect to flow under the auspices of this alliance."
The signing of the new alliance extends a working relationship DSTO and BAE Systems have had for many years, according to BAE Systems Australia Chief Executive Officer David Allott.
With 1,500 engineers working on some of the most advanced defence systems and a 60-year history of supporting the Australian Defence Force, our people offer a wealth of innovation and experience," Mr Allott said.
"We're keen to share this knowledge with DSTO to benefit the development of new technologies and systems that will help to better protect Australia and its defence forces."