Defence launches book on Nulka missile decoy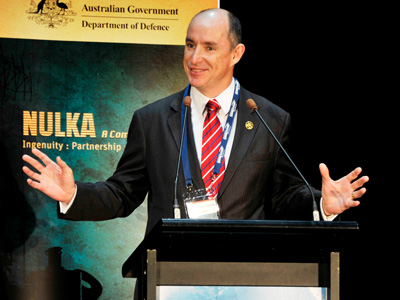 A book covering the development of an Australian innovation that has contributed significantly to Naval ship protection has been launched by Assistant Minister for Defence Stuart Robert MP.
Nulka: A Compelling Story was written jointly by Dr David Gambling, former Chief of DSTO's Electronic Warfare Division, Don Northam of the US Naval Research Laboratory, and Mal Crozier from BAE Systems Australia.
Nulka is a hovering rocket designed to seduce anti-ship missiles away from their targets. The active missile decoy was conceived by the Defence Science & Technology Organisation and built under an Australian-US collaboration program.
"Nulka was the first joint project in the electronic warfare domain between Australia and the US and has since developed into a collaborative program of great success and value to both our countries," Minister Robert said.
The system is deployed on 160 Australian, US and Canadian warships and is considered Australia's largest regular Defence export valued at over $40m AUD per annum.
BAE Systems Australia, responsible for the production and support of the Nulka system, has delivered over 1,200 rounds of the weapon to the Royal Australian Navy and United States Navy.
Minister Robert paid tribute to the many scientists, engineers, technicians and industry partners who worked for many years both in Australia and the US to bring the Nulka system to an effective capability.
"Every individual, no matter their origin or role, who worked on the Nulka project throughout the years should be exceptionally proud of their achievements, which are faithfully captured in this book," he said.
Download a pdf copy of Nulka: A Compelling Story now.