CTD wins Defence Innovation Award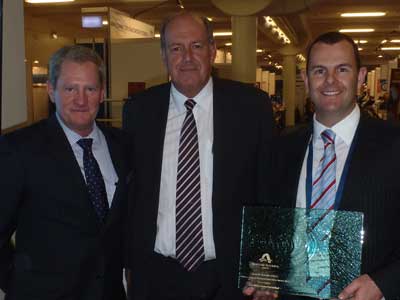 The Pegasus buoyancy system developed under the Capability & Technology Demonstrator (CTD) program to recover helicopters ditched at sea has won the 2013 National Defence Innovation Award from Maritime Australia Ltd, organisers of the Pacfic series of International Maritime Expos.
The award was presented during Pacific 2013 by Vice Admiral (Ret'd) Chris Ritchie to Tim Lyons, Managing Director of West Australian company One Atmosphere which developed the system. The awards ceremony was attended by Defence Minister Senator David Johnston.
DSTO's Dom Lombardo and Luther Krake played an important role as technical advisors for the Pegasus CTD and led the definition of measures of performance and task scope. Garry Hajek and Duncan Watson were the CTD Project Managers.
Tim Lyons said, "Once fully developed, Pegasus will be a lightweight cost effective option for Defence to consider, which may ultimately help save lives. We will continue to develop and refine the Pegasus system including airworthiness certification for a wide range of military and civilian aircraft operating in the marine environment."
The Pegasus system is also a finalist in the Western Australian Innovator of the Year Awards (Woodside Oil and Gas category).