Government invests in defence industry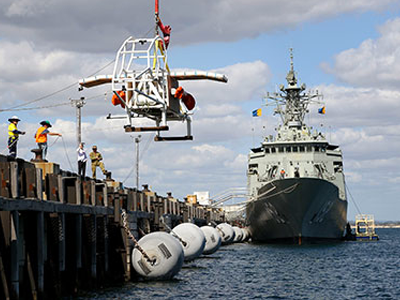 The Minister for Defence, Senator David Johnston, and the Assistant Minister for Defence, Mr Stuart Robert today announced a multimillion dollar investment to develop future defence technology in Australia.
The Assistant Minister for Defence, Stuart Robert, announced today that the Canberra headquarters of the Defence Science and Technology Organisation (DSTO) is being named after the late Dr David Warren who developed the 'black box' to help in the investigation of aircraft accidents.
"Dr Warren was a visionary and his invention has made an extraordinary contribution to aviation safety around the world," Mr Robert said.
"The naming of the DSTO building is a fitting tribute to a great Aussie inventor."
Dr Warren invented the black box flight recorder in the mid-1950s when employed at one of DSTO's predecessor organisations, the Aeronautical Research Laboratory at Fishermans Bend in Melbourne.
Up to $13 million has been committed under Round 18 of the Capability and Technology Demonstrator (CTD) Program.
Managed by DSTO, the program supports Australian industry to develop and demonstrate new technologies that could contribute to Defence capability.
"Seven technology proposals from Australian companies and universities have been selected this year to demonstrate possible defence applications," Senator Johnston said.
"These proposals have the potential to advance Defence capability, produce innovative products for Defence and civilian use, and stimulate Australian industry growth."
This year's successful proposals include:
a new technology for improved detection of interference sources affecting GPS
a portable fuel cell to improve energy support to forward operating bases
software for rapid submarine communications
a sound deadener to improve submarine stealth by reducing exhaust noise from diesel engines
a portable global wideband satellite communications terminal suitable for smaller ships
technology to improve the processing performance of maritime radars
a miniature radio frequency kit for next generation decoys used to protect Australian Defence Force (ADF) platforms from missiles.
Subject to satisfactory contract negotiations, these CTD projects should commence in mid-2014.
The successful proposals were submitted by GPSat Systems Australia, RMIT University, CEA Technologies, Adelaide Research & Innovation (University of Adelaide), EM Solutions, BAE Systems Australia and Lockheed Martin Australia.
"We congratulate all participants involved in putting forward proposals and supporting research and development for defence applications," Mr Robert said.
"Since the Capability and Technology Demonstrator Program began, Defence has invested $263 million in 112 projects, half of them proposed by small-to-medium enterprises. Of these, 96 projects have provided successful demonstrations to date, with 15 having entered service."
Senator Johnston said a number of current and recently completed projects are also promising for candidates to be transitioned into service in the future.
"These are very good results for high risk research and development projects that benefit Defence and Australian industry."