Radar expert wins Science Achievement Award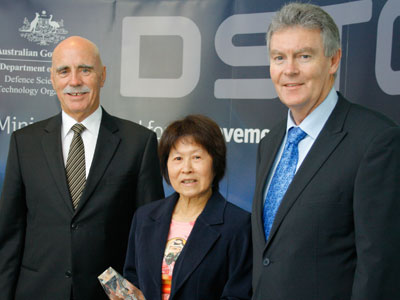 World class innovation to shield Defence ships and aircraft from radar surveillance has earned a Defence Science and Technology (DSTO) scientist a prestigious Australian award for achievement in defence science.
Minister for Defence Science and Personnel Warren Snowdon has presented the 2011 Minister's Award for Achievement in Defence Science to Cheng Anderson for her pioneering role in reducing the vulnerability of Australia's Defence platforms over three decades.
Mr Snowdon said Dr Anderson is the principal architect of a world leading capability that allows the Australian Defence Force to predict, measure and reduce the visibility of its ships and aircraft to radar systems.
"Before Dr Anderson began her work thirty years ago Defence only had a limited capability to protect its assets adequately."
"Dr Anderson's work has been vital in improving the stealth capabilities and ensuring the survivability of our military aircraft, ships and land vehicles," Mr Snowdon said.
The work has involved the development of computer models to predict a platform's visibility to radar, known as the radar cross section. The cross section can also be measured experimentally validating the computer model predictions.
The resulting information makes it possible to know where treatment should be applied to reduce a platform's cross section.
"These are significant developments in self-protection for Defence assets and I congratulate Dr Anderson for her foresight and technical achievements," Mr Snowdon said.
"I would also like to thank Dr Anderson on behalf of all Defence personnel for her hard work, which will save lives, while improving the capability and efficiency of our defence forces."
"This award recognises the rare distinction of an individual scientist being solely responsible for establishing a critical defence capability," he said.
"Dr Anderson has been extremely focussed and successful in applying this capability in the maritime, air and land environments as well as in key areas such as support to operations, through-life support of existing platforms, and acquisition projects."
Dr Anderson is the second female scientist to have won the Minister's Achievement Award since Dr Jackie Craig in 2001.
The Minister's achievement award has been presented annually since 1988 to a DSTO scientist who has made an outstanding scientific contribution to enhance Defence effectiveness and efficiency. The award includes a $15,000 cash prize.