Defence Minister honours top mathematician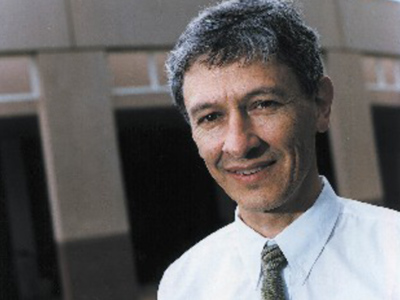 A scientist with a distinguished career in crypto-mathematics is the winner of the 1999 Minister's Award for Achievement in the Defence Science and Technology Organisation (DSTO).
Dr Ian Doherty, a senior principal research scientist with DSTO's Communications Division, has been recognised for his sustained and high quality research, leadership and personal contributions to the science of secure communications.
Dr Doherty's research has addressed many key Defence priorities in the area of secure communications, in particular the establishment of a strong capability in crypto-mathematics - the mathematical theory of codes and cyphers.
One of the more widely known achievements of Dr Doherty and his research group was the development of the critical technology that made possible the SPEAKEASY secure communications system. It is now used extensively for classified Australian Government communications.
The Minister for Defence, Mr John Moore, presented Dr Doherty, 52, of Canberra, with the award and $15,000 winner's cheque at a ceremony at Parliament House today.
In making the presentation, Mr Moore said Dr Doherty was a worthy recipient of the prestigious award, which is presented annually to acknowledge outstanding and original work in enhancing Australia's defence effectiveness.
"In his career with DSTO, Dr Doherty has consistently demonstrated a high quality of leadership and innovation in crypto-mathematics research, which has won him the respect of his military and scientific peers," Mr Moore said.
"This Achievement Award acknowledges the important role of Dr Doherty and other DSTO scientists and engineers in contributing to Australia's defence capability through their significant advances in leading edge research and technology."
In 1988 Dr Doherty established, and was the inaugural head of, a mathematical research group in DSTO. He recruited a team of talented and innovative scientists, and under his leadership the group has been highly successful in solving problems critical to Defence.
Dr Doherty's personal contributions in crypto-mathematics have ranged across many aspects of the science, including the design of cryptographic algorithms, the measurement of unintended electromagnetic radiation, the reliability of communications systems, and the assessment of cryptographic systems proposed for use by the Australian Government.
The value of this important work has been recognised by Australia's allies.

Dr Doherty currently holds a research leadership position in DSTO in conjunction with a senior management position in the Defence Signals Directorate (DSD). Dr Doherty has been highly successful in this dual role, facilitating the transition of research results into operational effectiveness within Defence.