Minister recognises scientific excellence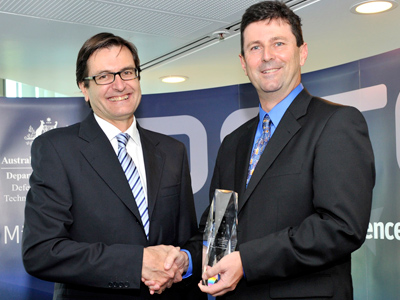 The prestigious Minister's Award for Achievement in Defence Science for 2009 has been awarded to a Defence scientist who has devoted his career to enhancing Australia's long-distance surveillance capability.
In announcing the award today, Greg Combet, Minister for Defence Personnel, Materiel and Science said, "I am pleased to present the award to Dr Gordon Frazer of the DSTO for his internationally recognised expertise and inspirational leadership in advancing both Australian and Allied capabilities in Over the Horizon Radar (OTHR)."
"Dr Frazer's personal and sustained contribution has been instrumental in assuring that Australia remains the world leader in operational OTHR capability." said Minister Combet.
The Jindalee Operational Radar Network (JORN) was developed over many years as a result of DSTO's research in OTHR technology beginning in the 1970s. JORN provides wide area surveillance of Australia's strategically important northern approaches.
The JORN system has been progressively upgraded and enhanced through DSTO's continuing research efforts and changing operational requirements.
As part of continuous improvement Dr Frazer has developed a number of major technological advances in techniques, algorithms, software and hardware that have helped to address some significant limitations on High Frequency (HF) radar performance caused by the ionosphere.
In July 2009, Dr Frazer was presented with an Award for Excellence by the National Measurement and Signature Intelligence Management Office of the US Department of Defense in recognition of his "invaluable technical expertise and leadership in support of Australia-US OTHR cooperation".