National Science Award For Defence Armour Expert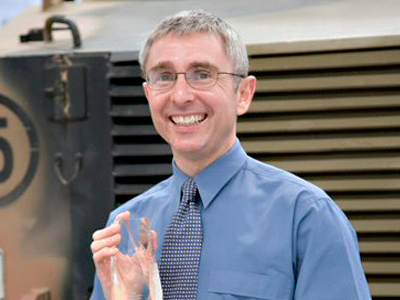 Parliamentary Secretary to the Minister for Defence, Senator Sandy Macdonald today presented a national science award to Dr Stephen Cimpoeru for his outstanding achievement in enhancing the survivability and protection of Army vehicles on operational deployments, ensuring the safety of Australian soldiers.
Dr Cimpoeru, from the Defence Science & Technology Organisation (DSTO), has been presented with the 2006 Minister's Award for Achievement in Defence Science at a function in Melbourne. He received a trophy and a cash prize of $15,000.
Senator Macdonald said Dr Cimpoeru, widely regarded as an expert in ballistic protection and armour, has provided invaluable technical leadership in the science of armour protection for fifteen years.
"Protecting our forces on operational deployment is a high priority for the Australian Defence Force (ADF), and Dr Cimpoeru's work has contributed directly to the ongoing safety of Australian soldiers in the field, especially in Iraq and Afghanistan," Senator Macdonald said.
Dr Cimpoeru has been closely involved in requirements definition, technical risk assessment, procurement, testing and evaluation, analysis and enhancement of all armoured vehicle fleets within Defence.
Senator Macdonald said Dr Cimpoeru's most significant scientific work has been in identifying the causes of failure in laminated metallic, titanium and composite based armours, and using this improved knowledge to make better analytical predictions of ballistic performance.
In 2004, when the Australian Government decided to provide survivability enhancements for light-armoured vehicles (ASLAVs) in Iraq, Dr Cimpoeru and his team urgently tested and evaluated a range of protective accessories and rapidly introduced them into service on ASLAVs and Bushmaster infantry mobility vehicles. These included external bar armours and internal spall liners which were integrated into the vehicles to protect them and the crew from rocket-propelled grenades and improvised explosive devices.
"Dr Cimpoeru coordinated a large number of complex live-fire ballistic fragmentation and blast tests at very short notice to enable this deployment to proceed with extra protection for our soldiers," Senator Macdonald said.
"This activity made a vital contribution to enhancing operational effectiveness and protection for Australian troops."
Dr Cimpoeru was instrumental in supporting Defence with advice and evaluation during the acquisition of the M1A1 Abrams Main Battle Tank. His pivotal role included high-level liaison with the US. His technical skill and meticulous attention to detail were critical in achieving this project.
Dr Cimpoeru has also made a significant contribution to broader national security issues. He has been advising a number of Government agencies on ballistic protection in helicopters, aircraft, ships, watercraft and VIP armoured cars.
His knowledge and efforts are helping to ensure that Australia's VIPs, official overseas guests and ADF personnel are provided with the highest level of protection.