Young DSTO researcher wins aviation safety award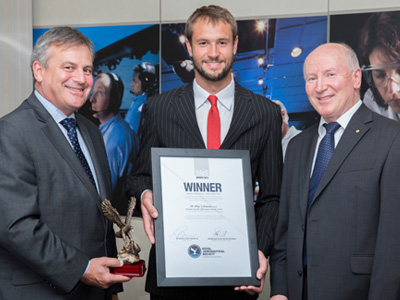 Young DSTO researcher Rhys Lehmann was presented with the 2014 Royal Aeronautical Society's (RAeS) Australian Defence Force (ADF) Aviation Safety Award at a ceremony in Melbourne this week for his outstanding contribution to helicopter flight dynamic modelling that has improved the safety of ADF CH-47D Chinook operations following a fatal accident involving a Chinook A15-102 helicopter in Afghanistan in 2011.
The award was presented by President RAeS Australian Division, Air Commadore Noel Schmidt and Chief Defence Scientist, Dr Alex Zelinsky.
Lehmann said he was very proud to be recognised for this work as part of a great team.
"I think this is a good example of how what we do at DSTO really matters to Defence and makes a vital contribution to the ability of the people in uniform to do their jobs safely and effectively".
Lehmann's achievement lay in the fact that in the absence of the flight data recorder which had been destroyed in the crash, he was able to build a mathematical flight model that accurately replicated the behaviour of the aircraft before the accident. He used data from other aircraft that flew similar missions. The model was used to better understand the aircraft, the Advanced Flight Control System and the design limitations in relation to an unusual aerodynamic phenomenon unique to tandem rotor helicopters like the CH-47D.
From this, Lehmann produced a training presentation for Army pilots and was lead author on a publication now issued to every Army pilot regarding "Advanced Tandem Rotor Flight Principles". This publication has received very positive feedback from distinguished engineers and test pilots; and is now sought by operators around the globe. Aircraft manufacturer Boeing has taken on board Lehmann's lessons for full flight simulators in the USA, releasing a new service bulletin to all operators of Chinook aircraft.
Chief Defence Scientist Dr Alex Zelinsky praised Lehmann's work which he described as being in the best traditions of DSTO which has a world class reputation for investigating military aircraft accidents. He said Lehmann's work was notable as he had been employed in DSTO for less than two years when he found the solution to the Chinook's tragic loss. He won an Early Career Achievement Award in 2012 for his efforts.