DSTO and Airbus Group form strategic alliance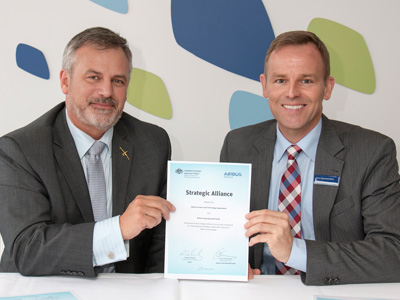 DSTO has formed a new strategic alliance with Airbus Group Australia Pacific Ltd (AGAP).
The agreement was signed in an inaugural alliance management committee meeting during the Australian International Air Show at Avalon.
The alliance will see the two organisations work closely together on a range of research and development projects related to aerospace defence technologies.
In particular, it will facilitate collaboration between DSTO and the Airbus Group in defence aircraft systems (including helicopters) and communications. Initially it will focus on maximising the capability of Australian Defence Force (ADF) aerospace fleets throughout their service life, and on improving communications capability.
Chief Defence Scientist, Dr Alex Zelinsky, said the alliance is a further step forward in strengthening the ADF's aerospace capabilities.
"Our collaboration with Airbus Group will ensure the highest levels of support for the ADF's future aerospace systems," Dr Zelinsky said.
Airbus Group Australia Pacific Managing Director, Dr Jens Goennemann, said the partnership is an exciting initiative for both organisations.
"I'm delighted to formalise our relationship with the world-respected DSTO. Airbus Group has been good friends and business partners with DSTO for a long time and this strategic alliance can only enhance that successful relationship.
"Combining Airbus Group's aerospace expertise with DSTO's scientific innovation will lead to increased Australian defence capabilities in the future," Dr Goennemann added.