Joint research program upgrades Super Hornet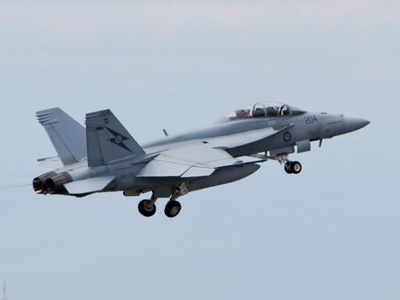 Assistant Minister for Defence, Stuart Robert, today announced that a collaborative research program between the Defence Science and Technology Organisation (DSTO) and the US Navy has resulted in upgrades to the radar warning receiver in the Royal Australian Air Force's F/A-18F Super Hornets.
"A significant improvement to a defence capability has been realised through the exceptional collaborative work of Australian defence scientists and our US allies," Mr Robert said.
"Importantly for Australia, the US Navy considered this program of work to be highly successful and as a result is keen to undertake more collaborative work."
The project, which began in 2008, will give the aircraft a greater ability to fight in a modern complex electronic warfare environment.
"Under the Advanced Passive Surveillance Capability program, upgrades have been made to the radar warning receiver on the Super Hornet, improving its ability to locate and identify threats," Mr Robert said.
"It took forward-looking research to develop the software upgrade and then some smart thinking to apply it to a real system in a fast jet."
Mr Robert said Australian industry had been involved in a number of significant contracts developing ground support software in support of the program, as had a number of small software and hardware development companies under contract to DSTO.
"The work conducted under this project includes signal processing and parameter estimation algorithms and analysis tools for electronic warfare application, which will be relevant to a number of Australian Defence programs," Mr Robert said.
"As these programs evolve, it is expected there will be a number of opportunities to provide Australian industry with technology they can include within their proposed solutions for these programs."
The radar warning receiver upgrade will soon be fitted to the US fleet of Hornets and Super Hornets and to Australia's fleet in the near future.