DSTO expertise addresses IED threats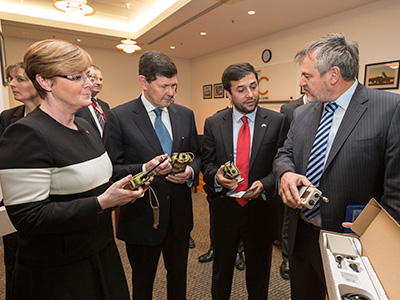 A significant step toward defeating the threat of improvised explosive devices (IEDs) has been achieved through collaboration between DSTO, the Defence Materiel Organisation (DMO), the Australian Defence Force's (ADF) CIED Task Force and industry manufacturing capability.
DSTO has developed a low-cost, robust and lightweight force protection system which has been provided to the Afghan National Defence and Security Forces who are now deploying the equipment in their current fighting season.
Announced recently by the Minister for Defence, the Hon Kevin Andrews MP, the devices were designed and optimised to be low-cost, lightweight and able to be easily used in difficult operating environments. There are two variants – Greengum for dismounted soldiers, and Greygum for fitting to light vehicles.
In his press statement, Minister Andrews said that Australia continues to be on the cutting edge of the development of defence science and technology needed to address the global threat posed by improvised explosive devices.
Many years of investment in research and development programs have provided DSTO researchers with deep scientific and technical knowledge of the threat environment, which is demonstrated by their ability to quickly design pre-production units of this device in readiness for immediate mass production.
Close collaboration with industry partners ensued to support an accelerated production schedule and seeing the devices being delivered to Afghanistan within five-months of the pre-production design.
See the Minister for Defence media release for more.