Australia strengthens defence science cooperation with Singapore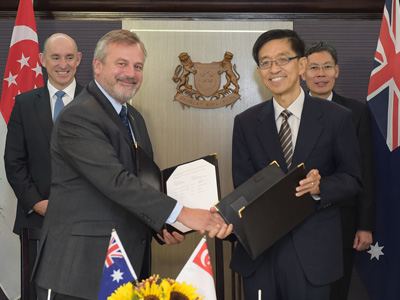 Australia and Singapore today signed a ten-year Memorandum of Understanding for cooperation in defence science and technology.
This is the first new defence cooperation agreement between the Australian and Singaporean Defence Organisations, as agreed in the Joint Declaration on a Comprehensive Strategic Partnership by Prime Ministers Abbott and Lee, signed on 29 June 2015.
Assistant Minister for Defence Stuart Robert said the agreement was a new milestone in building closer ties with Singapore through extended collaboration in defence science and technology.
"The Australian Government supports a more prominent role for defence science and technology cooperation as part of a deeper strategic relationship with Singapore," Mr Robert said.
"Australia and Singapore have been collaborating on science and technology matters since 1993 and I welcome this new agreement, which broadens the scope of joint defence science activities for our two countries."
Under the new agreement the two countries will undertake collaborative research, conduct joint trials, work on systems engineering and integration, exchange equipment and personnel, develop new capabilities and improve methods of operation.
"There are benefits for both our countries in sharing knowledge, especially in areas of future technologies such as advanced materials for protection, autonomous systems, chemical/biological defence, photonics and cognitive science," Mr Robert said.
"The Australian Government greatly values the defence science and technology relationship with Singapore, a technology-savvy country with a fine track record in scientific achievements.
"I look forward to the development of new capabilities for our mutual benefit as a result of today's agreement."
The new Memorandum of Understanding was signed in Singapore by Australia's Chief Defence Scientist, Dr Alex Zelinsky, and his Singapore counterpart, Professor Quek Tong Boon.