Students present innovative ideas in Trusted Autonomy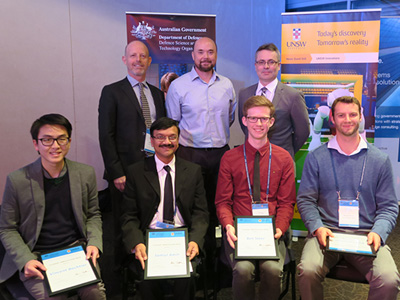 Five university students competed for a Student Innovation Prize aimed at developing a trusted autonomous system.
The prize was offered as part of the Emerging & Disruptive Technologies Assessment Symposium recently co-hosted by the DST Group of Defence and University of New South Wales (UNSW). The challenge was for individuals or teams of current students to outline a Trusted Autonomous System innovation either at the idea stage or already being developed.
Entrants provided a statement of their idea or project emphasising the innovative quality and describing its feasibility, practical use and defence relevance.
The selected finalists travelled to the Symposium in Sydney to present to delegates and judges on Wednesday 15 July. The Judges – Dr Kevin Cullen (CEO, UNSW Innovations), Glenn Frankish (Country Technology Manager, Lockheed Martin Australia) and Dr Simon Ng (Group Leader UAS, DST) – were impressed by the overall quality of the presentations given by students, and of the innovative ideas they put forward.
Samiul Amin (UNSW) presented on Detection of Life after a disaster, Kevin Jung (UniSydney) presented on Scalable and intuitive User Interface, Vincent Bachtiar (UniMelb) presented on Calibration of systems with competing objectives, Ben Steer (Monash) presented on Autonomous Improvised Explosive Devices (IED) detection, and Kyle Hardman (ANU) presented on Inertial Navigation with Precision Gravimetry.
The overall winner was announced at the Symposium dinner on Thursday 16 July held in the Scientia building on Kensington Campus at UNSW.
Monash University student Ben Steer took out first prize of $1000 and the four remaining finalists each received $500 courtesy of UNSW.