Secure military communications system wins Eureka Prize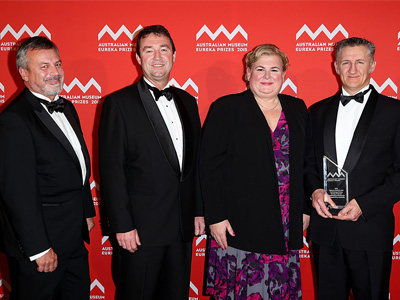 A mobile communications system that allows users to connect easily and securely to classified networks from anywhere in the world has taken out the 2015 Eureka Prize for Outstanding Science in Safeguarding Australia.
The 'Secure Communications System', developed by Canberra-based Northrop Grumman M5 Network Security, takes advantage of easily accessible public or private Internet Protocol connections to provide a secure mobile communications capability.
Assistant Minister for Defence, Stuart Robert, said the system played a vital role in protecting sensitive military communications at a time when cyber security is a critical and ever increasing consideration in military planning.
"Our warfighters must be able to operate anywhere in the world and have secure communications back to Australia," Mr Robert said.
"The Secure Communications System provides that capability in a way that is affordable and user-friendly."
The five products in the Secure Communications System are a significant improvement on existing mobile communications capabilities by virtue of their compact size, low operational cost, ease of use, in-built cyber protection and the ability to provide simultaneous access to multiple classifications of data using a single device and carriage service.
"In the years since their introduction, these products have delivered marked benefits in usability, cost reduction and security for end users, demonstrating that mobile ICT solutions can be just as secure as fixed-infrastructure solutions," Mr Robert said.
"I congratulate Chief Technology Officer Merik Karman and his team from Northrop Grumman M5 Network Security for successfully taking their research from the laboratory bench to the battlefield and in so doing making a significant contribution to Australia's defence capability."
Originally designed for the Australian Defence Force, the system can be customised for any government department or large corporation.
The Eureka Prize for Outstanding Science in Safeguarding Australia is proudly supported by the DSTGroup.
See also: