Prestigious engineering award for Chief Defence Scientist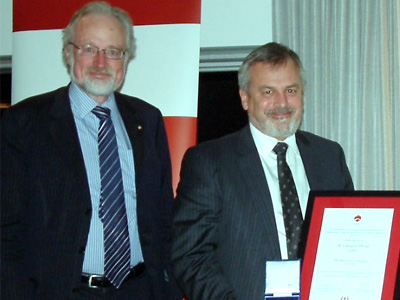 Assistant Minister for Defence, Stuart Robert, today congratulated Chief Defence Scientist, Dr Alex Zelinsky, on receiving the prestigious 2015 M A Sargent Medal from Engineers Australia.
Dr Zelinsky received the award in Sydney last night for his significant contributions to engineering, including technical innovation and leadership.
"I am delighted with this well-deserved recognition for Dr Zelinsky and I congratulate him on his latest accomplishment," Mr Robert said.
Secretary of Defence, Mr Dennis Richardson said Dr Zelinsky was a worthy recipient of the engineering award.
"His scientific leadership is an asset to Defence," Mr Richardson said.
Dr Zelinsky leads the Defence Science and Technology Organisation (DSTO) and has held other senior positions at the Australian National University and CSIRO.
His achievements include pioneering both the scientific development and engineering application of planning methods in robotics, specifically applied to autonomous robot navigation. He is also regarded as a world leader in the field of Intelligent Vehicles.
The World Economic Forum named Dr Zelinsky a Technology Pioneer in 2003, 2004 and 2005. He has been included in Engineers Australia's list of the 100 most influential engineers since 2009.
Dr Zelinsky said he was deeply moved by the recognition.
"My career has given me the opportunity to work with many brilliant engineers over the years and without their support I would not have received this award".
"I am particularly moved to receive the M A Sargent Medal. Dr Sargent is an eminent Australian engineer whom I admire and I have had the pleasure of working with him."
The M A Sargent Medal is awarded annually by the Colleges of Electrical Engineering and Information, Telecommunications and Electronic Engineering in honour of Dr Michael Anthony Sargent, an outstanding Australian electrical engineer and past President of the Institution of Engineers, Australia.
Two defence scientists, Professor Henry d'Assumpcao and Dr Donald Sinnot, have previously been awarded the M A Sargent medal.