Defence unveils Indigenous artwork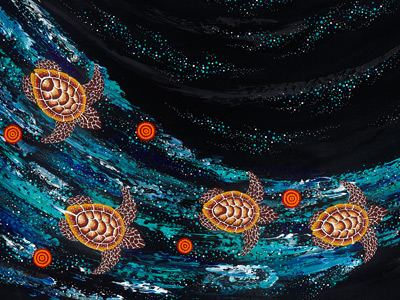 Defence today unveiled an Indigenous painting at its Science and Technology headquarters in Canberra as a mark of respect for cultural diversity within the organisation.
The artwork, Song Cycle of the Seven Sisters, painted by award-winning Indigenous artist Anthony Walker, was unveiled by the Secretary for Defence, Dennis Richardson, Chief Defence Scientist Dr Alex Zelinsky, and Elder of the Ngunnawal people, Aunty Agnes Shea.
The artwork depicts Gurreng Gurreng people singing up to the Seven Sisters at a turtle nesting site in Mon Repos, Bundaberg. The Seven Sisters (also known as The Pleiades star constellation) safely guide turtles into shore to lay their eggs – ensuring continued abundance of turtles in the area.
Dr Zelinsky said the theme of the Song Cycle of the Seven Sisters was caring for country, reflecting Defence's commitment to Australian defence capability through a collaborative and inclusive workforce, enabling knowledge creation and innovation.
"Story telling through the medium of art is integral to Australia's Indigenous heritage and provides a cultural reference point for Indigenous people to identify our organisation's commitment to cultural diversity," he said.
"The DST Group's core business is creativity and innovation, and this is enhanced by a workforce diverse in backgrounds, thoughts, customs and ideas.
"We therefore need to reach out and tap into the rich diversity that exists in Australia.
"Indigenous Australians can add significant value in our workplace and provide opportunities to explore different approaches to scientific innovation and problem solving."
The unveiling ceremony included a Welcome to Country from Aunty Agnes Shea and a performance by the Wiradjuri Echoes dance troupe.
This activity is part of a broader Defence Reconciliation Action Plan that aims to attract more Indigenous people to work for Defence, and to educate non-Indigenous staff of the cultural heritage, customs and beliefs of Australia's traditional custodians.
About the Artist
Anthony Walker is an award-winning artist with artworks held in collections both nationally and internationally. Anthony engages with themes of identity and country in his work. He has succeeded in creating his own signature style that fuses traditional storytelling with contemporary painting techniques. Reinterpreting stories from his grandparents' country (Yiman/Gurreng Gurreng), Anthony's works have been acclaimed for their light-hearted design and visually striking blend of colour and movement. As well as painting, Anthony has created public art commissions for Brisbane City Council and the Queensland Government (Southern Queensland Centre of Excellence in Indigenous Health). He contributes time to community cultural development programs and is currently the Aboriginal Arts Development Officer for Regional Arts NSW.
The Song Cycle of the Seven Sisters was commissioned by Defence.