DST Group signs up to superconducting with Siemens and QUT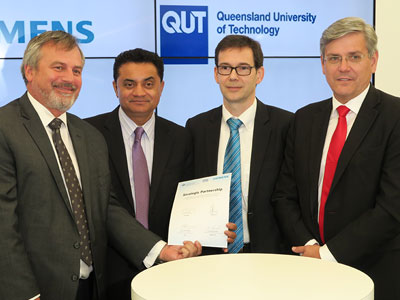 DST Group has joined with Siemens and Queensland University of Technology (QUT) in an Australian-first research agreement to advance the use of high temperature superconducting (HTS) technologies in Australia.
Chief Defence Scientist Dr Alex Zelinksy signed the agreement in a ceremony at the Pacific 2015 Maritime Exposition.
The agreement consolidates existing relationships and enables the partners to coordinate capabilites and knowledge regarding the performance and applications of HTS technology to academic, industrial and Defence challenges.
Dr Zelinsky said that the partnership will focus on transitioning research to outcomes that can deal with real world problems, starting with its potential applications to defence.
"This agreement is in line with our strategic goal to partner with the best talents in industry and academia to achieve a capability edge for defence," Dr Zelinsky said.
DST has strategic alliances with 12 defence companies and research agencies, and partners with 28 universities across Australia to deliver game-changing capability for the future of the Australian Defence Force. DST continues to seek opportunities to expand this network.
For more on this historic agreement, see the media release - Siemens partnership brings new levels of innovation to Australian Defence industry - on the Siemens website.