Scientists tooling up on aircraft repairs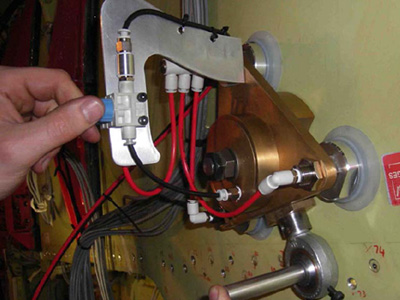 Defence scientists have invented a tool to reduce effort and increase accuracy for repair work on aircraft.
In 2010, scientists in the DST Group began developing their own hand-held rework alignment tool to assist with the alignment of drills and reamers.
The tool gained a lot of interest at the Avalon Airshow earlier this year when DST had the opportunity to demonstrate its unique capability. Since then, interest from the aviation industry has increased.
Scientist Chris Dore - who joined the project team just over two years ago - says that interest in the rework tool has been encouraging and he is looking into possible industry collaboration to commercialise it.
"Current efforts in relation to the tool are to transition production and marketing to an industry partner," he said.
"Commercialisation options are being considered following a welcome reception for the tool at the Airshow."
Initially designed for repairs on the Hawk Lead-in Fighter Full Scale Fatigue test article, the tool can be locked in place and then used to guide commercially available hand-held drills or reamers, allowing holes to be reliably drilled or reworked in very small increments and to precise tolerances.
The tool was created to eliminate errors and provide consistency; it can be attached to any near flat surface eliminating the need for additional clamping mechanisms.
"On our test we predominantly use it to 'rework' fastener holes that have been found to be damaged or out of tolerance," Dore said.
The tool is used by DST on a regular basis for the HAWK Full Scale Fatigue Test during most periods of repair on the test article.