DST book on MH370 launched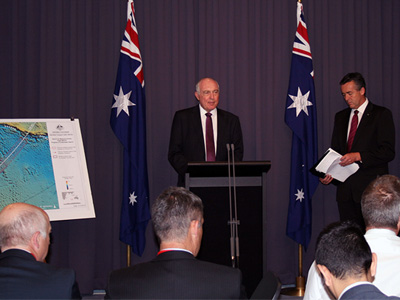 A book focusing on the work of Defence scientists to identify the search zone for the missing Malaysian flight MH370 has been launched by Deputy Prime Minister Warren Truss at Parliament House in Canberra.
The book titled Bayesian Methods in the Search for MH370 outlines the innovative work of DST Group scientists who developed new statistical data processing techniques and mathematical models to narrow the search area in the Indian Ocean.
The team of scientists was led by Dr Gordon an internationally recognised expert in statistical data processing and, in particular, the dynamic Bayesian estimation methods deployed. Working alongside Dr Gordon were Dr Samuel Davey, Dr Mark Rutten and Dr Jason Williams who are all experts in target tracking and multi-sensor fusion, and Dr Ian Holland who specialises in satellite and wireless communications.
The book is an account of the work of the teams who were part of the MH370 Flight Path Reconstruction group. Defence scientists contributed a range of expertise across a spectrum of technologies to the search: underwater acoustics, satellite communication systems and statistical data processing.
They have been contributing to the search since early 2014, led by the Australian Transport Safety Bureau (ATSB) and in collaboration with other Australian and international agencies.
DST's expertise and unique capabilities will continue to contribute to the ongoing search of the MH370.
The book can be downloaded from the ATSB website.