QinetiQ Australia and DST Group form new Strategic Alliance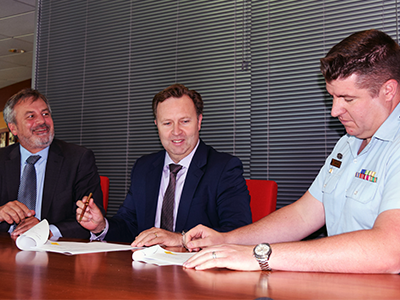 The high-tech support company QinetiQ Australia and DST Group have formed a Strategic Alliance that will capitalise on the long-standing and deep partnership between both organisations by making a commitment to collaborative Research and Development (R&D) in areas of strategic importance to the Australian Department of Defence.
The agreement was signed in Canberra on 26 February by QinetiQ Australia Managing Director Greg Barsby and head of DST Group and Chief Defence Scientist Dr Alex Zelinsky in the presence of Wing Commander Ben Main from the Directorate General Technical Airworthiness – Australian Defence Force (DGTA-ADF).
A major focus of the strategic alliance will be on ASI capability to strengthen the existing partnership between QinetiQ Australia. DST and DGTA-ADF and ensure the continued safe operation, enhanced capability and reduced cost of ownership of Australian Defence Force aircraft.
Other R&D areas, which draw on existing pools of deep technical expertise at a local and global level in QinetiQ, are traditional and exotic materials, signatures, unmanned aviation systems, weapons, training, cost assurance and integrated soldier systems.
Commenting on the new strategic alliance agreement, Dr Zelinsky said: "Entering into this strategic alliance builds upon the strong relationship DST already has with QinetiQ. Leveraging the synergies between our organisations has the potential to bring real capability enhancements to the ADF in areas that require innovation, deep technical expertise and scientific knowledge."
QinetiQ MD Mr Greg Barnsby emphasised the significance of the Strategic Alliance saying: "The Alliance both cements the tripartite partnership between QinetiQ Australia, DST and the DGA-ADF in ASI while combining the strengths of QinetiQ's global business with DST's scientific innovation in several collaborative R&D efforts."
Under the new Strategic Alliance, QinetiQ Australia and DST have also pledged to support the ongoing professional development, retention and career progression of each other's staff through training activities and employee rotations.