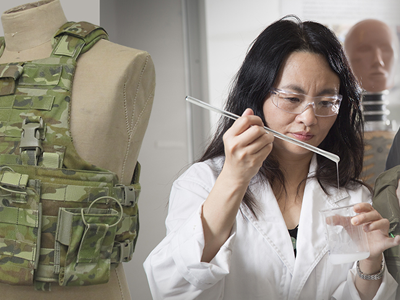 In the spirit of International Women's Day DST Group shines the light on two dedicated women who are making great strides in the fields of science and technology.
Defence Scientist Jie Ding from Land Division is a member of the Land Personnel Protection team and Deanne Bateman from Joint & Operations Analysis Division is the Director of Science & Technology Program, assisting to manage our science projects.
Jie Ding
Defence Scientist Jie Ding from Land Division has made important discoveries that may directly impact on the safety and sustainability of the armour provided to the Australian Defence Force (ADF).
Working with her Land Personnel Protection team within DST and collaborating with universities she has developed an innovative approach to the very heart of the battery, creating a new class of electrolytes that harden upon impact. This was only made possible by a discovery Jie made about a material that combines the advantages of both liquid and solid electrolytes.
Jie grew up in Kunming, YunNan, China where she graduated from university with a Bachelor (Hons) in Chemistry before moving to Australia and completing a PhD in Electrochemistry, Material Science at the University of Wollongong. She was inspired by female scientists such Marie Curie and finds science to be a fulfilling and worthwhile job.
"Science is an amalgamation of creativity, having an imagination and proving your innovations in experiments and real products. Throughout my career, my discoveries may influence and genuinely help people, improving the quality of their lives," Jie said.
Jie has spent 11 years with DST Group, joining the organisation in 2005 as a Research Scientist where her role was to develop and apply materials for soldier protection, in particular advanced materials and technologies to meet the core requirements of personal protection materials.
In 2007, Jie undertook a Defence Science Fellowship to the Institute for Soldier Nanotechnologies at the Massachusetts Institute of Technology, USA, where her research focused on the applications of advanced materials for actuators, sensors and superhydrophobic surfaces.
"The fellowship provided me with a great opportunity to work with cutting-edge technology in a very interesting defence project and develop a strong ongoing collaborative relationship with national and international researchers," Jie said.
The relationships Jie has developed and nurtured following her fellowship and throughout her career have resulted in a number of collaborative research projects being scoped out and adopted – achieving exciting outcomes in the world of advanced materials and technologies.
Jie's efforts in innovation and leadership have been recognised internationally as she continues to push her research, ideas and inventions to have a significant impact on ADF.
Even after devoting the past 20 years to the profession, Jie still finds science to be both exciting and mentally stimulating.
"Science is about everything, imagination, creative, logical thinking, the skills you built can lead you in many different directions and help you in everywhere."
Deanne Bateman
Deanne Bateman made the brave choice to study a Bachelor of Applied Science (Mathematics and Computing) at the University of South Australia, at a time when computer technologies were quite novel, she completed her studies in 1998.
Now working within the Joint & Operations Analysis Division, Deanne is currently working on a major ICT project to significantly enhance how Defence Scientists collaborate and share knowledge, to deliver scientific research to the ADF.
"I didn't have much to do with computers and only a basic introduction in school, which I struggled to understand. Realising computers were the way of the future; no matter what career I chose I thought the best way to tackle my fear was to study it," Deanne said.
On completion of her studies Deanne accepted a graduated position within the Australian Signals Directorate (formally Defence Signals Directorate) in Canberra, launching her long and valuable career within the Department of Defence.
In 2005, after eight years in Canberra, Deanne headed back to her home state of South Australia, joining DST to take her career in a new direction, moving away from the ICT environment and into project management.
"Two of the major Defence project teams that I was involved in were the ANZAC Frigate upgrades and the Air Warfare Destroyer projects. I thoroughly enjoyed this work and moved around to several divisions in the intelligence area, maritime domain and air domain," Deanne said.
"Now I am within the Joint & Operations Analysis Division as the Director of Science & Technology Program, my role is to assist managing our science projects, support long term development of our staff and capability and assist with the changing culture at DST."
In her early days, Deanne dreamed of a career as a Hollywood actress, which may seem unusual for someone who has spent 17 years in the world of science - often associated with quiet and introverted personalities. Yet she has thoroughly enjoyed her variety of roles and hopes to move into her current position permanently.
Deanne has credited her commitment to her work and ongoing drive to succeed to the strength and determination demonstrated by her mother.
"My mum taught me to never settle if things are not quite working in its current state then don't be afraid to change it," Deanne said.
"With so many opportunities in the field of science, and you can see from my own experiences, you have the opportunity to move around and diversify across a range of areas."
"When you're a part of something ground breaking that potentially brings something positive to our world it can be a very rewarding experience."