Assistant Innovation Minister commends research partnership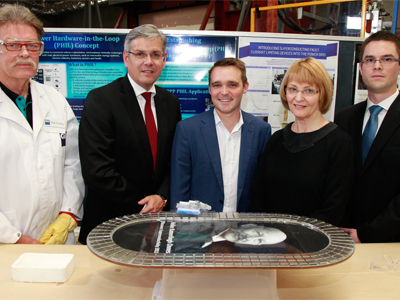 A three-way research agreement has seen Siemens Germany deliver a prototype high temperature superconducting (HTS) motor which was unveiled by the Assistant Minister for Innovation ,Wyatt Roy, at an event in Brisbane recently.
The DST Group joined with Siemens and Queensland University of Technology (QUT) in this Australian-first research agreement late last year to advance the use of superconducting technologies in Australia.
The HTS motor was transported from Germany on a Royal Australian Airforce (RAAF) C-17 Globemaster arriving at RAAF Base Amberley in February - before being moved to QUT where this research will be conducted.
Minister Roy commended the initiative and positive implications that the research partnership will have on an array of Australian industries.
"This partnership between QUT, Siemens and DST highlights the meaningful, world-changing innovation that can come from collaboration between research, the private sector and government," he said.
"If we can work together to commercialise these great ideas and turn them into products, businesses and services, then we really can change the world for the better."
Defence Engineer Rob Jarvis, who attend the launch in Brisbane, is excited about what this partnership and new technology will mean for DST and the wider Defence community.
"QUT have invaluable experience in the superconducting research domain and Siemens bring with them rare expertise in developing and building HTS machinery," Jarvis said.
"Our role will be to take the information recorded at QUT back to our labs, to develop models to understand how this technology can be applied to create potential advantages for Defence, starting with our major naval platforms."
This partnership is already set to open up a pathway to more energy-efficient Australian Navy vessels with significant reductions in size and weight for large electric machinery. HTS could also lead to less environmental impact and reduced operating costs.
The research is in line with DST's strategic goal to partner with the best talents in industry and academia to achieve a capability edge for defence.