Australian Design award for Innovative Heat Stress Monitor used by Australian war fighters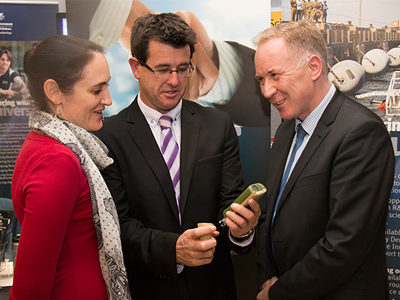 A heat stress monitor developed by the Defence Science and Technology Group (DST) and turned into a product by Ideation Design for use by Australian war fighters has been awarded a 2015 Australian Good Design Award in the Medical and Scientific category.
The handheld temperature/humidity sensor allows Australian Defence Force personnel to monitor environmental conditions in remote locations and reduce exposure to heat stress.
The heat stress monitor was selected from hundreds of new Australian and international entries.
The award recognises innovation, visual appeal, quality, sustainability, safety and ease of use. The device, currently on display at Sydney's Powerhouse Museum, was commended on its ergonomic package, good user grip, ruggedised housing, and easy-to-read LCD with LED backlighting for daylight conditions.
Chief Defence Scientist Dr Alex Zelinsky congratulated the teams at DST and Ideation Design for their highly innovative work.
"When Defence and industry come together not only can we develop novel capabilities, we also find new ways in which to deliver the capability," he said.
"Today this product is being put to good use by Australian Defence Force personnel during arduous training exercises. We believe that this innovation technology is also suitable for other markets such as emergency services."
Mr Colin Howard of Ideation Design presented Dr Zelinsky with the shared award on behalf of Good Design Australia.
The stress monitor has previously won a Defence Safety Award as the Best Solution to an Identified Workplace Health and Safety Issue.