Defence now part of gender equity program for scientists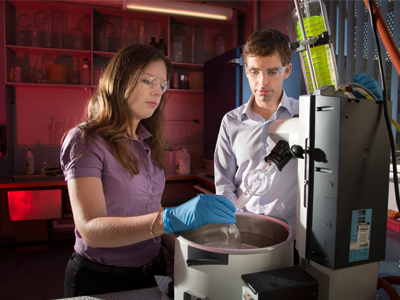 DST Group was selected to join a pilot for the national Science in Australia Gender Equity (SAGE) program of the Athena Scientific Women's Academic Network (SWAN).
SAGE is an accreditation and improvement program promoting gender equity and gender diversity in science, technology, engineering, mathematics and medicine (STEMM) organisations.
An initiative of the Australian Academy of Science and the Australian Academy of Technology and Engineering, SAGE is adapted from the Athena SWAN Charter established in UK in 2005.
Chief Defence Scientist, Dr Alex Zelinsky, said DST was delighted to be accepted into the 2016 pilot program, along with several other organisations, with the common aim of improving organisational culture through the Athena SWAN Charter.
"The SAGE initiative is closely aligned with our ongoing strategic initiative aimed at increasing the participation of women in our defence science and technology workforce through good practice in our recruitment, retention and promotion of women. I am committed to supporting and advancing gender equity and ensuring that we have an inclusive workplace culture that values our people and all our staff to achieve their best."
"We need a diverse workforce of professionals, to produce leading edge, innovative Defence capabilities. DST has a number of STEM and outreach activities that will help us achieve this goal."
"At DST, our recent STEM initiatives have included 13 scholarships for female undergraduate students and 22 cadetships for high-performing tertiary students."
"These and other STEM initiatives, representing a total of 51 DST-sponsored scholarships, cadetships and research placements, highlight our commitment to attracting the best people to Defence science and engineering careers," Dr Zelinsky said.
Nine DST scientists and engineers and a senior DST executive will be participating in the SAGE symposium in Sydney.
SAGE participating organisations work towards an Athena SWAN Award at the Institutional Bronze level to qualify for future Silver and Gold awards at the institutional and departmental levels. DST is committed to working with SAGE to improve its practices.
An independent evaluation found that women scientists employed in organisations participating in the Athena SWAN Charter experience greater career satisfaction and fairness in the workload allocation, and increased opportunities for training and development.