Redwing wins Innovation Award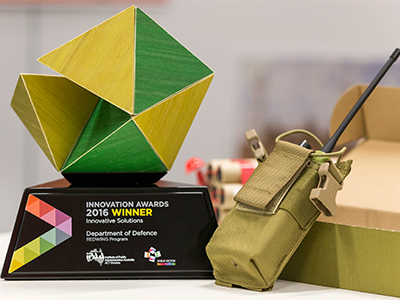 The Redwing suite of counter-IED devices, developed by DST Group, has won the inaugural Public Sector Innovation Award from the Institute of Public Sector Administration Australia (IPAA).
The awards have been introduced to recognise new, improved and effective approaches to public administration. Redwing won in the Innovate Solutions category.
The award was presented to the Redwing team comprising Darryn Smart and Ben Barona from DST, Katherine Thatcher and Rex Russell from the Australian Military Sales Office, and Tim Heenan from the Counter-IED Task Force.
The Redwing devices (Greengum and Greygum) were developed by DST, sponsored by Defence's Counter-IED Task Force and manufactured by Australian industry under project coordination by the Australian Military Sales Office. Industry partners involved in the project included Micreo, Ultra Electronics, Associated Electronics Services, AXIOM Precision Manufacturing and Lintek.
Chief Defence Scientist said he was delighted at the result. "Redwing is an exemplary success story for R&D innovation, collaboration and commercialisation," he said.
Australia has supplied 100,000 Redwing units to Afghanistan while another 50,000 units are on order.
Defence submitted the largest number of entries in the IPAA awards. There were two finalists from Defence, both from DST Group – Redwing and PyroFilm.