Hawkei Army vehicle wins DST Eureka Prize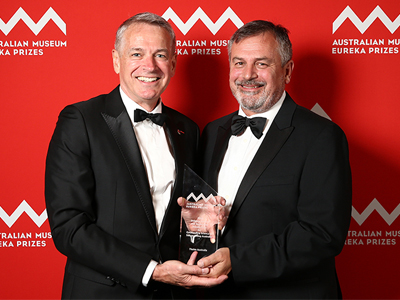 The Hawkei Protected Mobility Vehicle, developed by Thales Australia for the Australian Army, has taken out the 2016 Eureka Prize for Outstanding Science in Safeguarding Australia.
The prize, sponsored by the Defence Science and Technology Group (DST), was presented last night in Sydney to Thales' Hawkei research and technology team.
Chief Defence Scientist Dr Alex Zelinsky, who presented the award to the team at the awards function, said the Hawkei development is a commendable example of industry working with Defence scientists to deliver a unique capability for the Australian Defence Force.
The Hawkei vehicle features many innovative technologies in a novel design that meets the demanding requirements of Defence, especially against blast and ballistic threats.
Defence is investing $1.3 billion to acquire 1100 next-generation Hawkei light protected mobility vehicles.
These are purpose-built vehicles designed to provide superior protection for ADF personnel while ensuring a high degree of mobility in rough terrain.
The judges concluded that science and technology had been used in creative ways to build a versatile vehicle capable of performing effectively in various roles including troop movement, command and control, electronic warfare and surveillance with high levels of protection.
They noted that new insights had been gained by the development team across a broad range of disciplines from power management and electronic systems integration to the use of composite materials.