Defence Scientist Wins Young Innovator Scholarship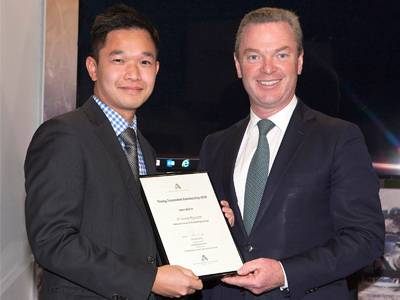 Chief Defence Scientist, Dr Alex Zelinsky, has congratulated Defence Scientist Dr Long Nguyen on winning the Land Defence Australia Young Innovator Scholarship at the Future Land Force Conference in Adelaide.
Dr Nguyen's award recognises his achievement in developing a new method of ballistic analysis that can lead to enhanced performance of armour.
Through his PhD, Dr Nguyen has created a computational model that can be used to analyse existing composites applied to vehicle protection against threats such as improvised explosive device blasts.
The computational model can accurately predict the performance and damage inflicted from a wide range of ballistic impacts.
"Until now, we've not been able to accurately understand the full potential of these materials, so Dr Nguyen's modelling will enable us to investigate broader applications of this material in protective armour," Dr Zelinsky said.
Dr Nguyen's PhD at RMIT University was sponsored by the Defence Science and Technology Group, RMIT and the Defence Materials Technology Centre, demonstrating the collaboration between Defence, academia and industry.
Chief Defence Scientist Dr Zelinsky said he was pleased that a young Defence scientist was recognised at the Future Land Force Conference, which has attracted a number of notable international partners to share research and development opportunities that will protect and enhance Australia's future force capability.
The conference has been focusing on delivering world-leading innovation to Australia's land forces, to protect and enable them in a continuously changing security environment.
A number of influential experts from the United States, United Kingdom, Japan, Singapore, Korea and New Zealand attended to explore the ongoing complexity of threats to international peace and security.
Ms Ann Cataldo from the US Army's Defense Exports and Cooperation spoke about how international partnerships strengthened defence innovation and Dr Inho Kim, President of Korea's Agency for Defense Development shared the Republic of Korea's Strategy for Future Warfare.
Researcher Heather Elsley from the Dstl in the United Kingdom presented on integrated survivability as one means of addressing the challenging security environment, and Dr Robert Sadowski, the US Army's Chief Roboticist shared his vision for robotics and autonomous systems for the future warfighter.
"The conference has been successful in strengthening our defence science ties with both international and domestic partners," Dr Zelinsky said.