Peter Chick wins Comcare Work Health and Safety Award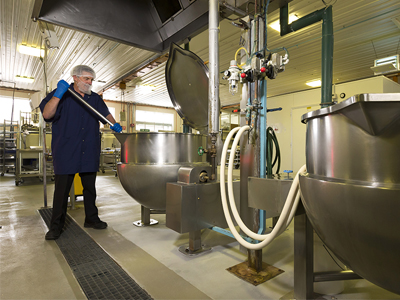 Defence Science and Technology Group (DST) Food Production Manager Peter Chick has taken out the Individual Contribution category at the Comcare Work Health and Safety (WHS) Awards ceremony, in Canberra on Tuesday 13 September.
Chick, who is responsible for the operation of the DST food production facility located in Scottsdale, Tasmania, has been recognised for introducing and implementing best practice for safety at the facility.
Supervisor Ross Coad says, Peter Chick's contributions have reduced the risk of injuries and the potential for pain and incapacitation. "His approach has built an environment where colleagues, who are experiencing injury or early warning signs of a problem, feel comfortable raising it with him and contributing to a solution."
Peter Chick has gone above and beyond the expectations of his role as production manager, becoming actively engaged in the improvement and modification of off-the-shelf equipment to ensure risk reduction solutions, resulting in better outcomes for the production staff.
The Scottsdale facility presents a number of unique safety challenges as it has levels of high production intensity with the requirement to produce about 80,000 freeze-dried meals and 100,000 freeze-dried rice sachets annually. The facility has a very small blended workforce that works effectively as a team, which means ensuring good consultation and cooperation is vital.
Chick has achieved high safety standards by actively collaborating with colleagues, industry, tradespersons, Defence's facility service providers, contractors, and the local Health and Safety Representative.