Wargames assisting the ADF plan for the future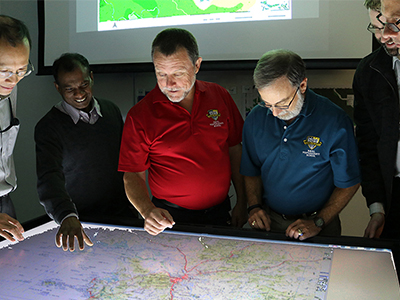 Defence researchers have been using analytical seminar wargaming to provide advice on future-proofing for the Australian Defence Force (ADF) and to determine the impact of modernisation decisions within the land force.
These wargames are being used as part of analytical campaigns to identify and understand the breakpoints within the set of possible modernisation choices available to Defence.
Defence researcher and experiment lead Marcus Tregenza identifies these breakpoints as critical failures in processes, systems or capabilities.
"The wargame approach identifies the causes and impacts of those failures," Tregenza explains.
"It is unique in the way it captures and revisits key points in the wargame to allow the exploration of significant possible outcomes at these points.
"It provides an understanding of which aspects of the problem need to be taken into other forms of analysis for further examination."
To enhance these wargaming capabilities, Defence Science and Technology Group (DST) sponsored a wargame course that was delivered by the US Naval Post Graduate School (NPS) at DST Edinburgh. Two NPS staff members presented the course to 22 DST and Australian and New Zealand military personnel.
The course ran for five days and the topics addressed problem scoping, sponsor engagement, data capture and analysis, wargame design and game adjudication.
Along with lectures there were also a number of practical activities and exercises. The exercises culminated with the course running two wargames designed by the participants for the DST sponsors.
These wargames were designed to identify the next areas of research in the Strategic Research Initiative of Trusted Autonomous Systems.
"DST researchers were the customers – they gave the students the problem to solve. The students then designed wargames to address the key questions," Tregenza explains.
"Following the course the customer feedback was very positive and they are keen for us to develop the existing wargame ideas and include this work in the next course."
Following the success of this course, DST will run a second (advanced) course which will focus on preparing analysts to facilitate analytical wargames.
This course is intended to run early in 2017 and plans include increased collaboration with the US Naval Post Graduate School and other international (professional) wargaming communities.
According to Tregenza, DST researchers will share existing ideas on wargame design, and the validation of combat models through historical studies.