Satellite research partnership at the forefront of Australian space research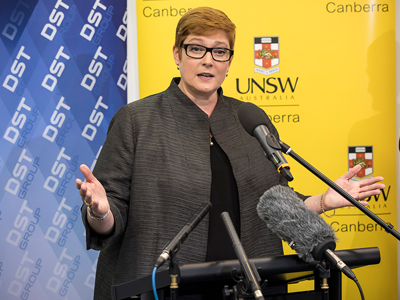 Minister for Defence Senator the Hon Marise Payne has announced that Defence has commenced a research program using miniature satellites in support of Defence radar capabilities and to conduct scientific experiments.
Space mission 'Buccaneer' is a partnership between Defence Science and Technology (DST) and the University of NSW that will conduct calibration activities for the Jindalee Operational Radar Network (JORN) as well as undertake outer atmosphere characterisation experiments.
Defence will also participate in multi-national space mission 'SHARC' (Satellite for High Accuracy Radar Calibration) to support GPS and space situational awareness experiments.
The 2016 Defence White Paper highlights the importance of space-based systems for information gathering, communications, navigation, and surveillance for all ADF and coalition operations.
"The Minister's announcement today reflects that Defence, through Defence Science and Technology Group, is positioning itself to be at the forefront of developing space research capabilities in Australia," said Acting/Chief Defence Scientist, Janis Cocking.
"These satellite programs are the first step towards reaching this aim and they're also a first step in enabling the growth of niche expertise in space research. I must make the point that we can only do this in partnerships, so the University of New South Wales in Canberra is a key partner for us.
"The Buccaneer mission also builds on a strong relationship with both our international partners, especially in the USA, the UK, Canada and New Zealand and the University of New South Wales in Canberra, which enables us to conduct these calibration experiments and the University of New South Wales to conduct its atmospheric characterisation experiments."
The research program is being conducted by DST and will take place over 2016 and 2018. The launches will be facilitated by Australia's partners.