Official launch of gender equality pilot program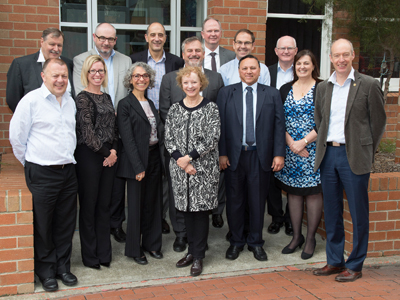 Over two days Science in Australia Gender Equity (SAGE) program Executives visited Defence Science and Technology Group (DST) laboratories in Melbourne and Adelaide to officially launch DST's participation in the SAGE Pilot program.
In June 2016 DST elected to join the Pilot for the national SAGE program of the Athena Scientific Women's Academic Network (SWAN).
SAGE is an accreditation and improvement program promoting gender equality and gender diversity in science, technology, engineering, mathematics and medicine (STEMM) organisations.
Executives Dr Wafa El-Adhami and Dr Saraid Billiards visited the DST sites to meet with staff, discuss program specifics and brief leaders about what the future holds as members of the Pilot program.
Defence researcher and champion for gender equality, Dr Shane Canney says the launch of the SAGE Pilot for DST is a very important step on our journey to cultural change in gender equality.
"It was extremely beneficial to have the SAGE executives visit both our Melbourne and Adelaide laboratories to officially launch the program," Dr Canney exclaims.
"This visit provided the opportunity for all staff to gain a much better understanding of the SAGE Athena SWAN Pilot and to hear directly from the SAGE Executive the expectations and opportunities regarding DST's role.
"The SAGE Pilot provides an excellent framework in which DST can measure progress towards key goals and objectives and apply lessons learnt along the journey."
The next step for DST is to set up the core Self-Assessment Team which will consist of six to eight DST staff. This group will work alongside sub-groups to collect data and develop a strategy for improving gender equality and diversity.
Implementation of this strategy will be peer reviewed for assessment of the Athena SWAN bronze award in mid-2019.