Quick-dry paint to improve Defence platforms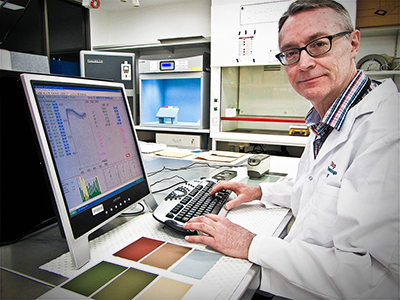 Defence researcher Chris Lyons in the Defence Science and Technology Group (DST) has been working on developing a safer and less polluting paint for Australia's military aircraft.
Solvent-based two-pack polyurethane paints have been widely used on Australia's military equipment for decades.
To reduce solvent emissions from these types of high-performance coatings, the Royal Australian Air Force (RAAF) has moved gradually towards acceptance of high-solids content solvent-based products. These products have lower amounts of the hazardous volatile organic compounds (VOCs) than the older two-pack coatings.
Lyons has been hard at work in the lab formulating and testing more benign water-based (aqueous) paints, and has developed some that demonstrate significant advantages.
"These coatings are potentially applicable to a wide range of Defence platforms, including jet aircraft, and have greatly reduced VOC content," says Lyons.
"These waterborne coatings give an eight-fold reduction in organic solvent emissions, per unit area of dry paint applied, when compared with the standard solvent-based products, and a three to four-fold reduction compared with the current high-solids RAAF paints.
"The topcoats we have created also have significantly extended durability performance, suitable for Australia's harsh climate, when compared with the solvent-based paints."
Improvements in properties such as drying rate, chemical resistance, flexibility and ability to be cleaned have also been demonstrated whilst maintaining at least equal performance in other areas and having minimal impact on the important functions of the primer such as corrosion resistance.
The drying rate is another property very important to the RAAF because maintenance workers require access to an aircraft as soon as possible after painting.
"In the early days we thought that water evaporation from the coating would be too slow to enable this, but we found that the unique physicochemical properties of the mixture enabled remarkably quick setup times when compared with the solvent-based high-solids products," Lyons explains.
"We introduced a "morning after/footprint test" which measures the ability to walk on a painted surface after 16 hours - a typical overnight delay between finishing work one day and returning to work the next.
"The rationale is that the RAAF (unlike other countries with larger fleets) has a limited number of aircraft and likes to have them out of maintenance and back on the flight line as soon as possible.
"While harsh footprints were left on several alternative coatings, the aqueous topcoat performed extremely well."
The superior flexibility of Lyons' topcoat is also expected to provide significant advantage when painting over rivets, fasteners and faying surfaces on aircraft.
Lyons thoroughly enjoys the challenge of creating new paints, talking to chemical manufacturers and then testing potential new materials to see if they can improve performance and enhance ADF capability.