Predicting cracks in our ADF platforms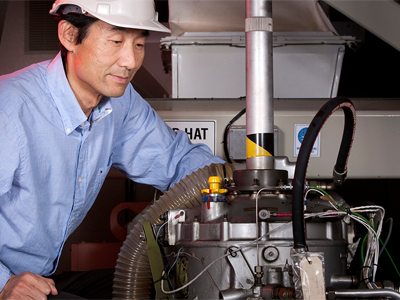 A small team of researchers from the Defence Science and Technology (DST) Group have been developing a new, simpler method to help military fleet operators detect cracks in ADF platform structures.
The research has the potential to guide operators on how long an aircraft, for example, can be flown before a crack is likely to reach a critical length.
Defence researcher, Dr Wenyi Wang recently presented a plenary lecture regarding this work at the opening of the 10th Asia-Pacific Conference on Fracture and Strength (APCFS2016), in Japan.
"Around the world, researchers continue to employ computationally intensive methods to calculate probabilities of fatigue crack length," Dr Wang explains.
"What DST has proposed is a simpler yet more robust method using the well-known Extended Kalman Filter.
"Our team combines three researchers with different expertise, which has allowed us to develop a modelling framework that characterises uncertainties and incorporates them into solutions. This is the first time that the Kalman Filter has been used in this way."
The outputs are not only a prediction of crack growth lengths, but also a probability distribution, meaning it has the potential to predict at what time a crack can propagate to what length and at what likelihood.
The team compared their framework to other work in the literature using the Virkler data set, generated by Purdue University to validate their work - with promising results.
Dr Wang believes that this new prediction technique could be useful in DST research that is examining the fusing together of data from multiple sensor sources such as vibration sensors, wear debris filters and acoustic recorders to reach final, accurate prognostic decisions on machine health.
"We are now looking for real world problems from Defence and do expect to find some areas where we can use it," Dr Wang says.
The APCFS2016 Committee has recommended that the full paper out of this work be published in the Journal of Japanese Society of Mechanical Engineers (JSME). The paper has been accepted for publishing in 2017.