Improving helicopter operations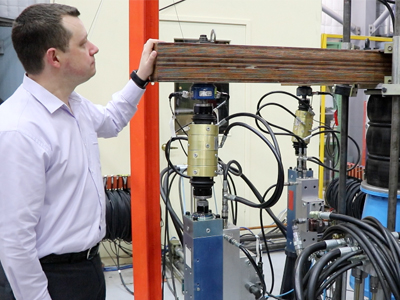 Defence Science and Technology (DST) Group aims to maximise Defence capability by reducing the maintenance cost and burden of helicopter operations, equating to more time spent flying than fixing.
Defence Researcher, Luther Krake explains that the cost of helicopter maintenance is growing at a faster rate than the budget allows.
"Over time, the operators are getting less maintenance for their money, and it's costing more, so our team is looking at ways to address this issue" Krake explains.
"One of the major concerns is fatigue in the helicopters airframe, or cracking.
"We are looking into using a full scale helicopter fatigue test and the knowledge we would gain from that to more proactively manage the structure, and hopefully, do it cheaper."
The DST driven project, known as 'Advanced Helicopter Fatigue Testing' aims to dramatically speed up the rate at which the fatigue testing process takes place, essentially trying to go faster and maintain the accuracy that is needed to deliver accurate test results.
"We can use analytical methods to speed up the process but ultimately we need to check this experimentally and that's where we do coupon testing." Krake says.
Coupon testing is a crucial aspect of the project, where small pieces of material are tested in order to grow cracks and verify the analytical results are accurate.
DST has also developed a test bed known as the Large-Scale 6 Degree of Freedom Dynamic Demonstrator (6DDD). This test bed increases the effective cyclic rate at which helicopter applied forces can be produced experimentally in up to 6 Degrees of Freedom while maintaining an acceptable accuracy on control parameters such as load, displacement or strain.
If the development and technical feasibility studies that Krake and his team have been working on prove to be successful, the next step in the project would be to consider going ahead with a full scale fatigue test on an actual helicopter.
"At the moment we are looking at the MH-60R Seahawk as an exemplar to do a fatigue test on," Krake explains.
"This test would be used to validate structural modifications and to increase the life of the helicopter airframe."
Put simply, the work that Krake and his team at DST are conducting aims to keep Defence's helicopter fleet safer and prolong the life of the aircraft in a cost effective way. Krake and his team will showcase this work at the upcoming Avalon Air Show.