Innovation Award for conquering corrosion in Defence aircraft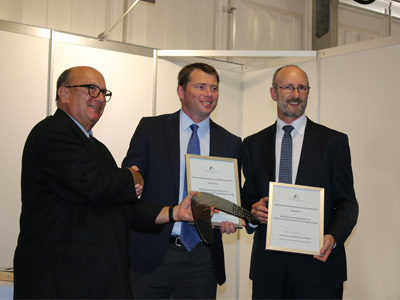 The Minister for Defence Industry, the Honourable Christopher Pyne MP, congratulated the Defence Science and Technology (DST) Group and BAE Systems Australia on winning the 2017 Aerospace Australia Defence Industry Innovation award.
Minister Pyne said the two organisations were recognised for developing new technology to predict corrosion in aircraft structures through self-diagnosis.
"Aircraft corrosion costs the Australian Defence Force an estimated $245 million a year and this new predictive system can significantly reduce that cost," he said.
"It also helps Defence aircraft spend more time flying missions and less time on the ground for maintenance."
The environmental degradation monitoring and prognostics system anticipates future corrosion status for prompt preventative action to be taken, instead of the traditional inefficient practice of prescribed maintenance at fixed intervals.
The technology has been successfully demonstrated on RAAF Hawk aircraft and is currently being deployed on RAN Seahawk helicopters. It would also be a key Australian contribution to the corrosion management system for the global F-35 Joint Strike Fighter fleet.
Minister Pyne said the innovation award was a testament to the importance of collaboration between Defence and industry in achieving innovative solutions for Defence capability.
"The Government is committed to partnerships with industry to deliver innovation for Defence," he said.
The Innovation Award was presented to Dr Geoff Hugo of DST and Dr James Waldie of BAE Systems Australia at the Australian International Air Show.