Industry Collaboration to strengthen Australia's Air Defence System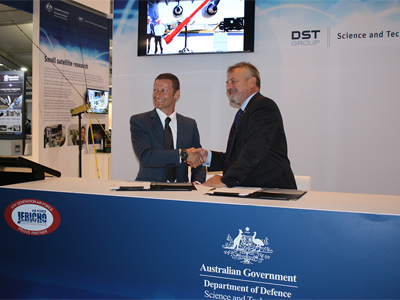 Minister for Defence Industry, the Honourable Christopher Pyne MP, has announced a collaboration agreement between the Defence Science and Technology Group and Grollo Aerospace to provide Defence with an enhanced capability for evaluating Australia's air defence systems.
Minister Pyne said this collaboration would give Defence a cost-effective means to test the performance of modern weapon systems targeted at Australian Defence Force aircraft.
"This partnership will improve the performance of Grollo's autonomous supersonic aerial target, Evader, which replicates the flight characteristics of advanced airborne threats," he said.
"The key objective is to enhance this autonomous air vehicle technology and maximise its utility for Defence applications."
Minister Pyne said the Government was firmly committed to technology collaboration between Defence and industry to enhance ADF capability.
"We're keen that Australian companies, especially small and medium enterprises, have every opportunity to collaborate with Defence on meeting future capability needs," he said.
The collaboration agreement was signed by the Chief Defence Scientist, Dr Alex Zelinsky and Mr Mark Grollo, Managing Director and Chief Engineer of Grollo Aerospace at the Australian International Air Show at Avalon.
Grollo Aerospace is working towards a demonstration of the Evader target system in 2018.
"This collaboration will address the world-wide demand for an affordable means of evaluating the performance of weapons systems against modern threats," Minister Pyne said.